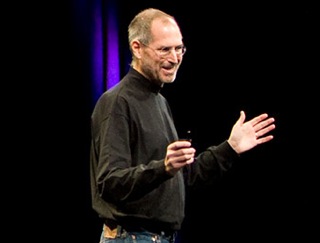 Apple CEO Steve Jobs has stepped down from the top position at his corporation in a resignation letter to its board of directors today. While not giving a reason for stepping down, it is widely rumored it is related to the mogul's ailing health, though he is expected to remain as chairman of the board of directors. Jobs will be succeeded by Apple COO Tim Cook.
In his resignation letter, Jobs merely noted that the day "when I could no longer meet my duties and expectations as Apple's CEO" had come, and recommended strongly that Cook succeed him. He also requested the chairmanship of the board, which he will be given. He thanked his employees and friends at the company, but in such a short message said little about his reasons why. The Wall Street Journal, however, explains that it may have to do with his health:
The timing of the announcement, however, was a surprise and raised questions about the health of Mr. Jobs, who was diagnosed with a rare form of pancreatic cancer in 2004 and underwent a liver transplant two years ago. Mr. Jobs has not commented on his health since he said in a letter in January that he was taking another leave of absence to "focus on my health". He made an appearance at the launch of the iPad 2 in March and Apple's annual developers' conference in June but appeared thin both times.
The resignation is effective immediately. Cook has been running the company since Jobs had been on medical leave early this year, so the daily operations will not be immediately. The market, however, has already responded to the news.
Watch the report from Fox News below:
Have a tip we should know? tips@mediaite.com