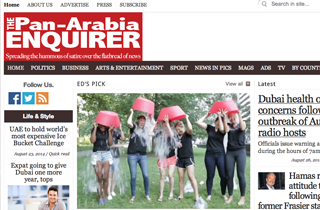 The Pan-Arabic Enquirer wants to be the Arab world's version of The Onion, and we've gotta say, they're getting pretty close: Not only do they run stories like "New Islamic State jihadist accidentally packs wrong black flag" and "Israel says US has a right to defend itself against unarmed black teenagers", but they've managed to anger large multinational corporations with their posts. (All while openly disclosing their satirical nature — take note, terrible U.S. Onion ripoffs.)
Yesterday, the site was asked to delete a story claiming that British PR company Bell Pottinger would represent the jihadist terrorist group ISIS. They did (and here's a Google Cache of the story), but not without taking a shot at the corporation:
Beat. Apology. Ever. Hit the nail on the head @arabiaenquirer pic.twitter.com/1OyjxskeuC

— Rachel Morris (@rachelannmorris) August 26, 2014
True fact: Bell Pottinger actually does represent some notoriously bad guys! Here's an actual list of Bell Pottinger's clients, printed in The Guardian:
The government of Sri Lanka; FW de Klerk, when he ran against Nelson Mandela for president of South Africa; Thaksin Shinawatra, the ousted Thai premier, whom protesters claim still controls the country; Asma al-Assad, the wife of the president of Syria; Alexander Lukashenko, the dictator of Belarus; Rebekah Brooks after the phone-hacking scandal broke; the repressive governments of Bahrain and Egypt; the American occupying administration in Iraq; the polluting oil company Trafigura; the fracking company Cuadrilla; the athlete Oscar Pistorius after he was charged with murder; the Pinochet Foundation during its campaign against the former Chilean dictator's British detention; the much-criticised arms conglomerate BAE Systems –- Bell or Bell Pottinger has represented all of them.
Sadly, the original Facebook retraction disappeared from the internet, but not from our hearts.
[h/t Rachel Morris]
[Image via screenshot]
—
>> Follow Tina Nguyen (@Tina_Nguyen) on Twitter
Have a tip we should know? tips@mediaite.com