As Debate Concession Shows, Wounded Trump Has Lost Leverage in Battle Against Fox News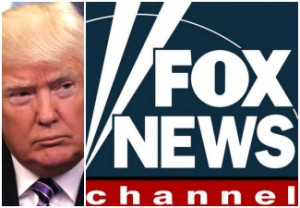 Leverage is a term most commonly used when it comes to negotiation. And no candidate on this road to the White House has boasted more about his ability to make good deals than Donald J. Trump.
For those who currently support Trump, this skill — honed over many decades in the tough commercial real estate market — is a Top-3 reason why. In this regard, give the billionaire credit for simplified messaging in a 140-character/8-second soundbite world: "We have the greatest negotiators in the world, but we don't use them," Trump says in just about every stump speech. "We use political hacks and diplomats. We use the wrong people. My whole life is making good deals." And upon looking at Trump's billions in net worth, it's hard to argue that easy-to-absorb point against him.
During this campaign season, Trump has flexed his muscle in this regard with mixed results. With CNN, he twice directly asked network president Jeff Zucker to pay him $10 million — which he said he would donate to veterans' groups — for the additional revenue he was creating via Trump-driven, huge ratings (Zucker declined). Trump also made similar demands of Fox News and Fox Business with no success.
But the Nobel Prize nominee has also come out on top in these situations: Back in October, when CNBC stated it was expanding its debate from two hours to three, Trump put his foot down and declared he would boycott if it wasn't reverted back to the original length. CNBC quickly relented. And just three weeks ago, ABC seemingly bowed to Trump when he complained about a negative editorial directed at him by the New Hampshire Union Leader. Note: ABC was supposed to partner in its sole GOP debate with that newspaper for its broadcast on February 6th, but the network broke said partnership after Trump demanded the paper be removed.
Like all negotiations, you win some, lose some. In all instances with one very high-profile exception, Trump has gone ahead with each debate. But that one event he decided to call Fox's bluff on may have cost him a victory in Iowa… a victory that would have essentially ended any chance Ted Cruz had at the nomination. Why? Because based on RCP (Real Clear Politics) polling, an Iowa win and the wind behind him, it would almost surely mean Trump would take New Hampshire, South Carolina and Nevada from there, essentially stopping Cruz before he even got started. Trump would also still have his two biggest talking points at his disposal: he knows how to win (like in Iowa, he would say) and his poll numbers are X, Y, Z. But when taking away the winner tag and showing polls can be meaningless (See: Iowa), suddenly Trump looks and sounds weaker, like a post-Buster Douglas Mike Tyson.
Following his loss to Ted Cruz on Monday night, a contest that also included Marco Rubio surprisingly coming within a two-point conversion of beating him, Trump has been in excuse mode. One of those excuses, perhaps his most notable public admission, is his acknowledgment that skipping the Fox debate may have cost him the Hawkeye State. That's impossible to definitively prove, of course. But in retrospect (and I was wrong on this one), it's hard to imagine a scenario of surrendering a big debate stage essentially to Cruz and Rubio three days before votes were cast somehow being a net-positive for Trump, and he has admitted such.
So how are things between Fox and Trump since that boycott? Well, he's already been on Fox News Sunday, Hannity (Tuesday night), and will join Greta Van Susteren's On the Record tonight. And during his interview on Hannity, he agreed with the host that everything is good with FNC. You get the feeling Trump now understands the megaphone the network provides in reaching voters during a time when ratings are going through the roof as they are now. You also get the feeling that yet another truce has been made between Roger Ailes and Trump, although the latter has shown an inability to keep his side of the deal thanks to itchy thumbs via a very active Twitter account where Trump averaged over 18 Tweets per day (fine for a sophomore, a bit much for a presidential candidate).
In the end, it's all about leverage. Trump was riding high in Iowa. Fox — in an effort to defend Megyn Kelly from Trump's continued barrage of one-way attacks on social media — went too far with an ill-advised press release, and it provided an easy out for Trump not attending the Iowa debate. At the time, Trump felt the cons outweighed the pros in attending said debate and he decided to bail for an event to raise money for veterans instead (of course, he could have easily written a check for the $6 million raised and still debated).
Know this: if Trump won Iowa, you'd be reading Fox's obituary — at least as far as being a major political force — far and wide from the usual suspects this week. Likely headline: Trump's Big Iowa Win Shows Fox No Longer Needed to Succeed… or something along those lines with the perfunctory "Kingmaker" thrown in for effect. Instead, Trump's concession around missing the Fox debate has become a major PR victory for the network, although they'd be wise to avoid any endzone dances in promoting that fact.
Moving forward, Trump has big double-digit leads in the next three states to vote or caucus on the road to the nomination. But the momentum has shifted. Trump no longer — at least for now — gets to sing the winner song. Cruz and Rubio are getting major airtime and actually approaching something resembling equal coverage after months of wall-to-wall Donald. And thankfully, the herd is quickly thinning with never-had-a-shot candidates dropping left and right (with the curious exception of Jim Gilmore).
Negotiation is all about leverage, real or perceived.
A wounded Trump currently doesn't have as much of it in either category and proceeds to embrace Fox again.
The question is as always… for how long does the hug last?
— —
Follow Joe Concha on Twitter @JoeConchaTV
This is an opinion piece. The views expressed in this article are those of just the author.