Assange Rips the Media for Helping Hillary 'Put Nooses Around Everyone's Necks'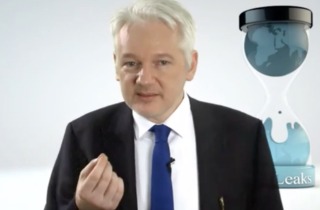 Julian Assange called out American news outlets on Wednesday for being so overwhelmingly in favor of Hillary Clinton, and shielding her from press scrutiny.
The WikiLeaks founder was speaking with Jo Becker of The New York Times for a wide-ranging discussion, and it eventually landed on the commotion caused when WikiLeaks published emails from the DNC one month ago. The development proved to be a major shake-up for the 2016 election, and Becker asked Assange whether he's got a dog in the election fight, as well as his thoughts on the accusations that Donald Trump is an unwitting agent of Russia.
Assange scoffed at the latter point before saying that both candidates are "terrible" and that Clinton is trying to re-frame negative coverage about herself. He continued to deny having a preferred candidate while saying that Clinton was "whipping up a neo-McCarthyist hysteria about Russia" that is yet another reason for reporters to hold her accountable.
"What kind of press environment is this going to lead to post-election" Assange wondered. "The American liberal press, in falling over themselves to defend Hillary Clinton, are erecting a demon that is going to put nooses around everyone's necks as soon as she wins the election, which is almost certainly what she's going to do."
Assange previously laid out similar thoughts in a Fox & Friends interview where he said that Clinton's "elite immunity" saved her from getting prosecuted for her email scandal.
Watch above (starting at 15:00), via New York Times' Facebook Page.
[h/t Washington Times]
[Image via screengrab]
— —
>> Follow Ken Meyer (@KenMeyer91) on Twitter
Have a tip we should know? tips@mediaite.com