Austin Govt. Hires Woman Expert to Teach Them How to Deal with Female City Council Members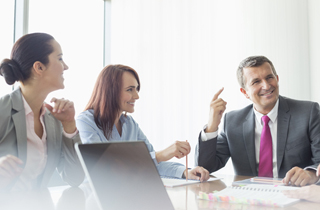 For the first time in the city's history, the majority of Austin, Tx.'s city council will be comprised of women. This is such a crazy, momentous event, that the city manager was forced to ask crucial questions: How do you woman? How communicate with woman? What woman do? To solve this problem, the office hosted a two-hour seminar for the city's employees, featuring, and we kid you not, a man who was an expert on women.
According to the Austin American-Statesman, which sent a reporter to the meeting, the city manager invited two experts to speak to the city's employees: Dr. Miya Burt-Stewart, a business development consultant, and Jonathan Allen, the former city manager of Lauderdale Lakes, Fl. "Allen was considered an expert in this field because his local city commission was all-female," the Statesman dutifully reported.
Here are some of Allen's Women In The Workplace Tips:
Women ask lots of questions. He learned a valuable lesson on communicating with women from his 11-year-old daughter, who peppered him with questions while they were on the way to volleyball. "In a matter of 15 seconds, I got 10 questions that I had to patiently respond to," Allen said. Allen says female City Council members are less likely to read agenda information and instead ask questions. He says it's tempting to just tell them to read the packet, but "my daughter taught me the importance of being patient" even when they may already know the answer to the question.

Women don't want to deal with numbers. Allen said in his city they used to have background information and financial analysis on the front pages of agenda forms. Allen says he normally would have presented the financial argument, but that his female commissioners would balk and say "Mr. Manager, I don't want to hear about the financial argument, I want to hear about how this impacts the whole community." He said that it may make good financial sense, but if he wants to get the votes, he has to present his arguments "in a totally different way."

Women are taking over, Hillary Clinton will only encourage this. Allen talked about the general trend of more women getting involved in government, citing stats of more female mayors, for instance. "You see women in leadership positions…you will have to interact with them in a different way," Allen said. "I submit to you if Hillary Clinton just runs, just runs for the office, you are going to see even greater numbers in leadership position, if she wins, you will see even greater numbers starting at the bottom on top." He warns the staff to play nice with people on advisory boards or commissions because you never know when they become the elected official.
In a hilarious footnote, a majority of all-female city council fired Allen from the city manager position last month, saying that they had different visions for the future of Lauderdale Lakes. "We're inundated with gas stations," Vice Mayor Beverly Williams told the Sun-Sentinel.
[Image via Shutterstock]
—
>> Follow Tina Nguyen (@Tina_Nguyen) on Twitter
Have a tip we should know? [email protected]