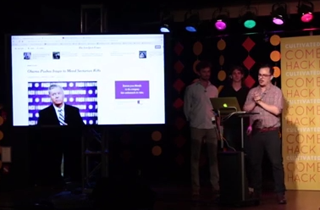 Last week at the fourth annual Comedy Hack Day, in which comedians team up with programmers to make funny apps, the winner unveiled an app that may actually serve to help internet users preserve their dignity: Timesify, an app that disguises trashy internet articles as serious journalism from the New York Times. (As they describe it: "We cloak your love of Mary Kate and Ashley Olsen in the posture of a concerned citizen.")
Here's how it works: Drag Timesify into your bookmarks bar, and whenever you arrive at an article you need to hide from your boss or friends, hit the button. Et voila — the text from your TMZ upskirt report will be imported into a website that looks exactly like the New York Times, along with a real headline from that day, a corresponding photo, and a quick summary of what the article's ostensibly about. Underneath that is the actual text from the post you're disguising.
Reading an article that purports to have a photo of, say, a celebrity penis? Not to worry — the photo is hidden underneath the ad on the right-hand side of the screen. The team behind Timesify added that it's capable of running slideshows, too, so there's even more boobs available in the New York Times. (Here's an example in which a Kim Kardashian boob photo is disguised as a smart take on Middle Eastern policy.)
When asked by the judges whether the app has more functionality, i.e. disguising a TMZ article as an Excel spreadsheet, or the capacity to disguise porn, the team said that they were working on it. "We're actually working on a product called Foxify, for people who live in the south where it's embarrassing to read the New York Times," a programmer added.
Watch the pitch below, via Cultivated Wit:

[h/t Laughing Squid]
[Image via screenshot]
—
>> Follow Tina Nguyen (@Tina_Nguyen) on Twitter
Have a tip we should know? tips@mediaite.com