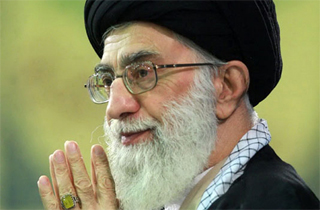 Ayatollah Ali Khamenei, no stranger to trolling the United States, said Wednesday that the letter sent from 47 GOP senators to Iran warning them off of President Barack Obama's nuclear negotiations spoke ill of the U.S.'s political cohesion.
Khamenei told Iran's news agency the letter signaled "the collapse of political ethics and the U.S. system's internal disintegration." (We call that "separation of powers.")
It was the first response from the Ayatollah, after Iranian Foreign Minister Mohammad Javad Zarif called it a "propaganda ploy" and said it eroded trust in the U.S.
Obama and Secretary of State John Kerry have been working for over a year on a deal to stunt Iran's nuclear program, a deal opposed by a bipartisan troupe of senators who believe only harsh sanctions and possibly military action will prevent Iran from achieving a nuclear weapon.
On Monday Senator Tom Cotton (R-AR) drafted a letter informing Tehran that any deal it struck with Obama not approved by the Congress would be void the moment he left office. Cotton & Co. have been criticized even by their own party for the letter, which is seen as undercutting the executive in the midst of foreign negotiations, while some have so far as to call them traitors.
For his part, Khamenei loves trolling the U.S. over its fractured race relations. He also disliked American Sniper without having seen it, so he has a future as an American pundit.
[h/t Associated Press]
[Image via Sayed Khan/Wikimedia Commons]
——
>> Follow Evan McMurry (@evanmcmurry) on Twitter
Have a tip we should know? tips@mediaite.com