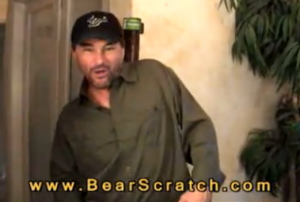 Richard Heene is a world-renowned inventor. Sure, he's mostly renowned for inventing a little story about his son being horribly endangered but, hey, creativity is creativity. So that's why we're all super excited about his latest invention; the Bear Scratch, a plank of knotty wood covered in a hard gel coat and designed to give you a "full scratching!" Clearly it sounds awesome. However, we're now going to have to keep our hoax detectors on full blast in case we hear any reports of the Heene children getting caught in a "plank of knotty wood" accident.
It would appear that Heene spent the last few months reflecting on his past mistakes as well as thinking up ways to make the world better (it would also appear, judging from the Bear Scratch's amazing commercial, that he spent that entire time chugging coffee). Heene must have been sitting back, trying to find a way to make the country not hate him, when he saw a bear scratching its back on a tree. Heene, like any great innovator, then thought, "Why not me?"
The commercial for the Bear Scratch has it all; a great jingle, a greater tagline ("If you itch like a son of a twitch"), and lengthy shots of Heene enjoying a good scratch. But it also has something interesting for eagle-eyed viewers. If you watch closely, you can find out why the Heene's reality show never panned out. No, it's the oft-given reason that they deceived the entire nation in an attempt to become famous and ended up costing taxpayers a ton of money. That's too obvious. The real reason comes at the end of the ad when Heene, after getting his scratch on, yells to his off-screen wife that he "doesn't need her anymore."
If their entire relationship was based around back scratching, that wouldn't have been too interesting a show.
(h/t MSNBC this morning)
Have a tip we should know? [email protected]