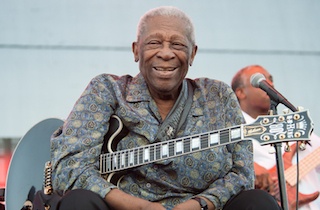 Blues legend BB King passed away last week at the age of 89 shortly after entering hospice care. But his daughters believe it was poison.
Patty King and Karen Williams filed affidavits Monday accusing King's manager LaVerne Toney and personal assistant Myron Johnson of homicide. Patty King alleged she saw King's manager daily drop an unknown substance into King's meals in the months before his death, leading to diabetes-induced shock.
"I believe my father was poisoned and that he was administered foreign substances," the daughters stated. "I believe my father was murdered."
The daughters have been criticizing King's care for months, alleging Toney had blocked family members from visiting him and that money had been disappearing from his accounts. The daughters unsuccessfully sued to take over guardianship of King, alleging neglect.
"They've been making allegations all along," replied Toney, who had power of attorney for King. "What's new?"
No investigation was initially conducted into the death, but authorities are have now opened up a homicide investigation. A coroner's exam was conducted over the weekend, but toxicology reports won't be available for two months:
Our coroner takes jurisdctn over #BBKing body, performs autopsy. Results:6-8wks min. Homicide investgtn w/ @LVMPD pic.twitter.com/vrU6Irwd87

— Clark County Nevada (@ClarkCountyNV) May 25, 2015
FWIW, an attorney for King's estate called the allegations "unfounded," adding they were "extremely disrespectful of B.B. King," while the coroner found "no evidence to substantiate the allegations."
[h/t New York Daily News]
[Image via Randy Miramontez / Shutterstock.com]
——
>> Follow Evan McMurry (@evanmcmurry) on Twitter
Have a tip we should know? [email protected]