No, Glenn Beck Did Not Say He Would Have Stabbed Trump at Last Night's GOP Debate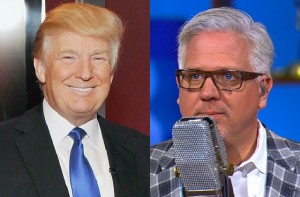 The Daily Caller accidentally ran an incorrect take regarding Glenn Beck's Friday radio show, and other media outlets — including Mediaite — shortly followed suit.
The conservative radio host — and fervent Ted Cruz supporter — was mistakenly thought to have revealed on his show Friday what he would have done if he were on stage at Thursday night's Republican debate in Detroit: stab Donald Trump.
The Daily Caller reported that Beck described the situation of standing next to the GOP frontrunner with his weapon of choice at the Fox Theatre, telling his listeners with a laugh, "If I was close enough and had a knife, really… the stabbing just wouldn't stop."
However, Stu Burguiere, the head writer of The Glenn Beck Program, took to Twitter to clarify that the comments were aimed at him, not Trump, once media outlets began to ran with the unclear distinction:
Thanks. RT @jtLOL: I jumped the gun (not a threat of violence) and I apologize to @GlennBeck and @WorldOfStu. https://t.co/UFbAV1eYws

— STU BURGUIERE (@WorldOfStu) March 4, 2016
Thank you. RT @RightWingWatch: We're obviously not fans of Glenn Beck, but he was clearly jokingly threatening @WorldOfStu, not Trump.

— STU BURGUIERE (@WorldOfStu) March 4, 2016
Fair point. RT @KelKilken: it's a fairly common occurrence for @glennbeck to threaten life of @WorldOfStu, I mean he usually deserves it

— STU BURGUIERE (@WorldOfStu) March 4, 2016
I'm deleting my Trump/Beck/Stab tweets.

Looks like Daily Caller is backing off the story.

Stupid me, I assumed there was AUDIO.

— John Nolte (@NolteNC) March 4, 2016
The comment came at the tail end of a discussion regarding a key question that was posed to all four GOP candidates at last night's debate regarding their support for the eventual party nominee. Although all of the non-Trump candidates said they would support the party, Beck seemed to differ in his opinion.
Check out the above audio for the clip.
[h/t Daily Caller]
Have a tip we should know? tips@mediaite.com