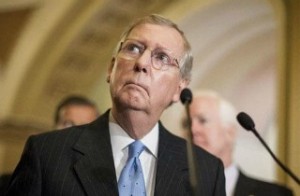 A new poll released Friday indicates that Senate Republicans' efforts to obstruct the nomination of new Supreme Court Justice may already be injuring their chances for re-election this November.
The poll from Public Policy Polling, a Democratic-aligned North Carolina-based polling firm, surveyed voters in Arizona, Iowa, Missouri, and North Carolina — all of which have Senate seats up for re-election — and found widespread discontent with the way GOP Senators have handled the vacancy left by the death of Antonin Scalia.
The poll measured voters' attitudes toward filling the vacancy and their approval of their respective state's sitting Republican Senator as well as Senate Majority Leader Mitch McConnell, who merely an hour after news of Scalia's passing was reported, announced that the party would entertain no hearings on appointing a new Supreme Court Justice until after the election. McConnell has refused to budge on this point, and Republicans have largely united behind him, including Sen. Chuck Grassley (R-IA), who chairs the Senate Judiciary Committee and whose seat is up for grabs in the fall.
"Strong majorities of voters in each of these states want the Supreme Court vacancy to be filled this year," according to the report. "It's a 56/40 spread in favor of filling the seat in Iowa, 56/41 in Arizona and Missouri, and 55/41 in North Carolina." Even larger majorities in each state (69/25 in Arizona, 66/24 in Missouri, 66/25 in North Carolina, and 66/26 in Iowa) said that they wanted the Senate to at least hear and consider potential nominees before rejecting them — something Senate Republicans have refused outright to do.
PPP's report attempted to frame the issue as problematic for the sitting senators up for re-election, writing: "Voters by a 34 point margin in Arizona and Missouri, a 21 point margin in North Carolina, and a 14 point margin in Iowa say that they're less likely to vote for their Republican Senators this fall if they refuse to confirm a nominee to the Supreme Court no matter who it is."
However, a closer look at the data shows a majority of respondents in North Carolina and Iowa said that if their Republican incumbent (Richard Burr and Grassley, respectively) rejected any appointment efforts, the voters were either "more likely" to vote for him or it "wouldn't make a difference." Also, none of the senators in question except Grassley sits on the Senate Judiciary Committee.
[h/t PPP]
Have a tip we should know? tips@mediaite.com