You've heard about the turducken. You've seen the EpicMealTime monstrosity known as the Turbaconepic (and gazed in awe at the Turbaconepicentipede follow-up). But nothing you have ever seen before in your life is going to prepare you for what I legitimately believe to be the most horrifyingly-looking food in the history of all foods: the cockatrice, which turns your average chef into Victor Frankenstein. Below is a picture of this… thing.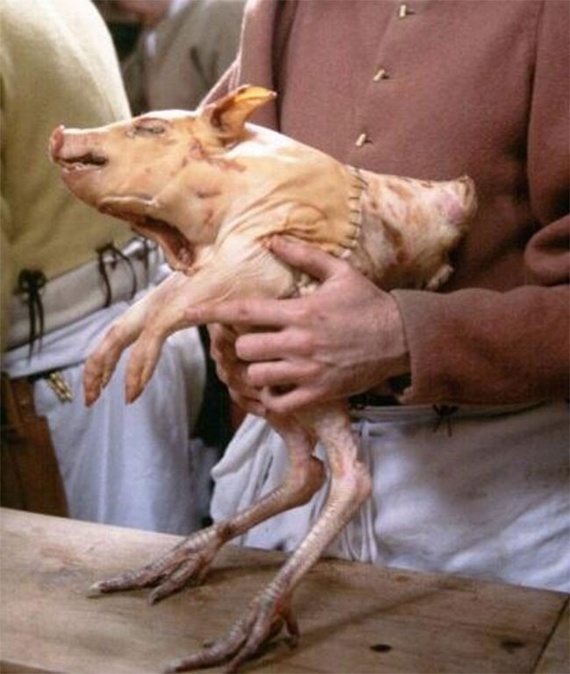 You may ask why. Or, more precisely, WHY GOD WHY?!? Well, according to The Atlantic, there is actually a fascinating history to this bizarre half-pig, half-bird creature. Here is how you prepare such a delicious monster.
Cockentrice – take a capon [giant chicken], scald it, drain it clean, then cut it in half at the waist; take a pig, scald it, drain it as the capon, and also cut it in half at the at the waist; take needle and thread and sew the front part of the capon to the back part of the pig; and the front part of the pig to the back part of the capon, and then stuff it as you would stuff a pig; put it on a spit, and roast it: and when it is done, gild it on the outside with egg yolks, ginger, saffron, and parsley juice; and then serve it forth for a royal meat.
If, for god knows what reason, you'd like to test this dish out for yourself, there's a more modern/detailed recipe here.
Celebrity chef Heston Blumenthal tried his hand at making the cockentrice just a few years ago. You can watch what happened below:
[h/t The Blaze]
[photo via Richard Fitch]
— —
Follow Josh Feldman on Twitter: @feldmaniac
Have a tip we should know? [email protected]
Josh Feldman - Senior Editor