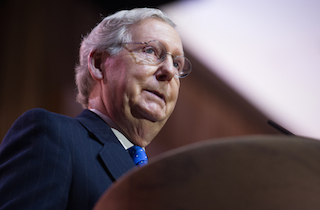 New Jersey Governor Chris Christie's statement yesterday that parents should maintain a "measure of choice" in whether to vaccinate their children started a sudden scramble in the 2016 GOP field. Before anyone knew what was happening, Christie and former Hewlett-Packard CEO Carly Fiorina were more aligned with Senator Rand Paul's libertarian take on the issue, while outsider Ben Carson was touting the necessity of vaccines, a position with widespread bipartisan support.
If the statements made by the over the course of the past twenty-four hours are any indication, the mainstream of the GOP is breaking toward Carson. On Tuesday, both House Speaker John Boehner (R-OH) and Senate Majority Leader Mitch McConnell (R-KY) came out in favor of vaccinations, which are back in the news thanks to a measles outbreak that now numbers over 100 cases.
"I don't know that we need another law but I do believe that all children ought to be vaccinated," Boehner said Tuesday.
McConnell invoked his experience with polio, which was wiped out by a vaccine sixty years ago:
"As a victim of polio myself I'm a big fan of vaccines," says Leader McConnell

— Matt Laslo (@MattLaslo) February 3, 2015
Florida Senator Marco Rubio and Louisiana Governor Bobby Jindal, both potential 2016 contenders, came out in unequivocal support of mandatory vaccinations Tuesday afternoon.
Rubio cited his grandfather's experience with polio, and added, "By the way, if enough people are not vaccinated, you put at risk infants that are three months of age or younger and have not been vaccinated and you put at risk immune-suppressed children that are not able to get those vaccinations. So absolutely, all children in American should be vaccinated."
Jindal even managed a swipe at some of his potential 2016 rivals, stating, "I think it is irresponsible for leaders to undermine public confidence in vaccinations." Wonder which leaders he's talking about.
[Image via Christopher Halloran / Shutterstock.com]
——
>> Follow Evan McMurry (@evanmcmurry) on Twitter
Have a tip we should know? tips@mediaite.com