Ben & Jerry's Founder Comes Through on Campaign Promise and Makes Bernie-Flavored Ice Cream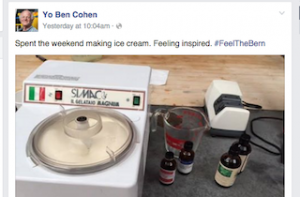 Vermont-based ice cream moguls Ben Cohen and Jerry Greenfield have been big supporters of hometown hero Bernie Sanders since he announced his presidential bid. Cohen, in particular, has been an outspoken advocate for his senator, attending rallies and giving interviews. In one particularly lighthearted interview moment two weeks ago, he described his dream of making a Sanders-flavored ice cream called "Bernie's Yearning." This weekend, he did just that.
At the time, he described the new flavor like this:
"I came up with one. It's called 'Bernie's Yearning'. When you open up the pint, there's this big disk of chocolate on the top, covering the entire top, and below it is just plain mint ice cream. And the disk of chocolate represents the 90% of the wealth that has gone to the top 10% over the last ten years. The way you eat it is that you take your spoon — you whack that big chocolate disk into a bunch of little pieces and you mix it around and there you have it: 'Bernie's Yearning.'
Cohen — who has donated $1,400 to Sanders's campaign, just like Greenfield — acted alone this weekend, whipping up 40 pints of Bernie's Yearning in his kitchen.
Because it isn't an official flavor and was instead funded by Sanders's campaign, the packaging is devoid of the iconic Ben & Jerry's logo. 25 of the 40 pints will be given away in a contest that ends on February 3.
This is hardly the founders' first foray into social commentary. In recent years, they have released ice cream to commemorate the Supreme Court ruling in favor of same-sex marriage and one to raise awareness of climate change.
After some brainstorming, Mediaite humbly offers the following suggestions to Cohen and Greenfield in the event Sanders does not win the Democratic primary: Chillary Clinton ("comes with its own server… a spoon!") and Martin O'Mallow ("white, sweet, and underwhelming, with only 3% of the calories!"). Lest you think we forgot about the Republicans, try Make America Grape Again and Marco Rubi-fro-yo.
[image via screengrab]
For more from Lindsey, follow her on Twitter.
Have a tip we should know? tips@mediaite.com