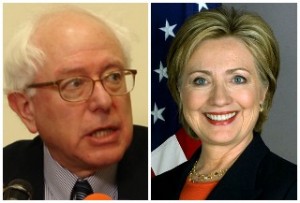 Hillary Clinton will, presumably, have a largely uncontested primary fight for the 2016 Democratic presidential nomination, but that doesn't mean that it won't get a little bumpy along the way. Case in point, Independent Vermont Senator Bernie Sanders has been floating the possibility of running, and in a new interview with TIME magazine, Sanders says he believes that not only would a Clinton presidency not be good enough for the kind of "political revolution" America needs, but that he would make a much better president than Clinton.
Sanders admits he doesn't have a "burning ambition to be President of the United States," but if there are no other candidates "who are prepared to represent the working families of this country," then he is prepared to jump into the race.
He believes America needs a political revolution to make D.C. beholden to the people and not billionaires and special interests, and on that score, Sanders thinks he would make a better president than Hillary Clinton.
"She's a very, very intelligent person, no question about it. But, you know, I don't know what her political future is, whether she's going to run. I don't know what she's going to say. But I think, you know, if you talk about the need for a political revolution in America, I think it's fair to say that Secretary Clinton probably will not be one of the more active people."
He credits President Obama for doing some good things during his presidency, but says he's been "weak" when it's come to dealing with Wall Street and civil liberties, among other things.
— —
Follow Josh Feldman on Twitter: @feldmaniac
Have a tip we should know? tips@mediaite.com
Josh Feldman - Senior Editor