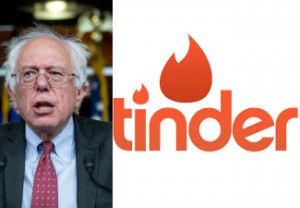 Several users of the hook-up app Tinder recently got less than they bargained for, and reported their fellow users for trying to stump rather than hump. According to Reuters, at least two female Bernie Sanders supporters were suspended by Tinder for using the app to campaign for upstart Democratic presidential candidate Sen. Bernie Sanders (I-VT), and one of them was even married:
Two women – one from Iowa and the other from New Jersey – confirmed to Reuters on Friday that they received notices from Tinder in the previous 24 hours that their accounts were locked because they had been reported too many times for peppering men on the site with messages promoting Sanders' candidacy.

Robyn Gedrich, 23, said she sent messages to 60 people a day for the past two weeks trying to convince them to support the U.S. senator from Vermont in his race for the Democratic nomination against former Secretary of State Hillary Clinton.

"Do you feel the bern?" her message to other Tinder users read, parroting a Sanders campaign slogan. "Please text WORK to 82623 for me. Thanks."

Gedrich, an assistant store manager at retailer Elie Tahari who lives in Brick, New Jersey, said a text would prompt people to start receiving updates from the Sanders campaign, as well as a link where they could sign up and volunteer. She has been unable to sign back into Tinder since logging off on Thursday.
The messages seem to have given their fellow Tinder users a serious case of electile dysfunction, since none of them resulted in hotly anonymous sex, although it remains to be seen if they might eventually generate a lever pull or two. Here's a quick tip, though, and just the tip: if someone's using an app designed for casual hookups, the last thing they want to end up doing is "feeling the Bern." That;s what I hear, anyway.
Have a tip we should know? tips@mediaite.com