Best Headline Of The Day: 'Florida 'Vampire' Attacks Senior Citizen At Vacant Hooters'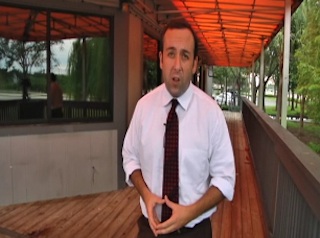 Here at Mediaite, we write and read a lot of headlines. Seriously, a lot. It gets so bad that we start beginning conversations in headline style in our daily life ("Apartment Needs Milk." "Roommate Late On Rent, Landlord Angry"). So, when we see a particularly masterful headline, we take notice. And there have been few this week as wonderful as this one from the New York Post: "Florida 'vampire' attacks senior citizen at vacant Hooters."
Really, it doesn't get much better than that does it? It's much funnier than the original headline from the Tampa Bay Fox 13 story they're citing: "Police: Man says he was bitten by vampire." That's probably because the story itself isn't really all that funny.
From Fox 13:
"The attack sent 69-year-old Milton Ellis to the hospital and put the accused vampire, 22-year-old Josephine Rebecca Smith, in jail.

…

'After he fell asleep on the ground, he claims that she attacked him, started yelling that she was a vampire, that she was going to eat him and started biting him by his face and body,' [St. Petersburg Police Department's Mike] Puetz said.

Somehow he made his way back to the Shell station in his wheelchair with blood still oozing from bite marks on his neck.

Ellis called police and told them that the woman who attacked him referred to herself as a vampire.

Police said Smith doesn't remember anything.

They found her on the porch at Hooters half naked and covered in Ellis' blood. Police say she had not been assaulted in any way.

'It seems more like a psychotic reaction or a maybe a drug-induced psychological reaction,' said Dr. Laura Umfer."
Yeah. A woman having a horrible reaction either due to drugs or serious mental issues and then violently assaulting a helpless guy in a wheelchair isn't exactly laugh out loud hilarious. Oh well. We'll always have that headline, right? We can forget the unpleasant details of the actual story and just remember the thrill we got reading that beautiful sentence from the wordsmiths at the Post, a simple sentence that promised us vampires, old people, and maybe girls in tiny orange shorts. To quote the old Hooters slogan, the headline is delightfully tacky, yet very much refined.
Watch a news report on the story from Fox 13 below:
Have a tip we should know? tips@mediaite.com