Bill Clinton Appears to Violate Election Rules With Polling Station Visits, Clogging Of Voter Lines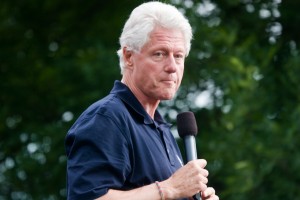 President Bill Clinton appears to have put the "Slick" back in Slick Willie once again.
Multiple media outlets are reporting that the former United States President may have been in violation of Massachusetts voting law at multiple polling stations — as many as four — today during Super Tuesday voting efforts.
Voting and Counting Procedures for the Commonwealth of Massachusetts clearly states:
Within 150 feet of a polling place as defined in 950 CMR 53.03(18)(c), no person shall solicit votes for or against, or otherwise promote or oppose, any person or political party or position on a ballot question, to be voted on at the current election.
However, President Clinton wandered into a polling station in Boston on Tuesday and "chatted up voters, kissed an old lady on the head, posed for photos, and bought a cup of coffee," according to a report filed from boston.com.
The campaign for President Clinton's wife — former Secretary of State Hillary Clinton — had to reportedly "be reminded" of the 150-foot-statute, but only after her husband has visited a number of polling stations throughout the eastern portion of the state.
But frustrations among voters really seemed to rise as the former President continued on to a polling station in New Bedford, MA where his presence may have actually prevented voters from fulfilling their purpose of being there. One such voter, identified here as Angela Grace, uploaded the following video to YouTube with the title "Bill Clinton appearance locking a voting poll!!!":
"I haven't seen one person be able to come in and be able to vote in here," says an off-screen voice in the video. "They are effecting the voting… this is ridiculous. This should be fraud and illegal."
The Massachusetts Secretary of State William F. Galvin told The New York Times today, "We had to remind some of our poll workers that even a president can't go inside and work a polling place." He continued, "We had to remind everybody what the rules are, that there is no campaigning within 150 feet of the voting booths because people are entitled to their privacy."
"You don't usually get a president doing this," noted State Secretary Galvin.
A Spokesperson for a Secretary of the Commonwealth was asked whether or not President Clinton's presence could be considered a solicitation of sorts for his wife in a polling station. That Spokesperson, Brian McNiff, said simply, "He's a well known person. And he's a spouse of a candidate. That should answer the question."
[image via Flickr]
—
J.D. Durkin is the Senior Editor of Mediaite. You can follow him on Twitter @jiveDurkey.
Have a tip we should know? tips@mediaite.com