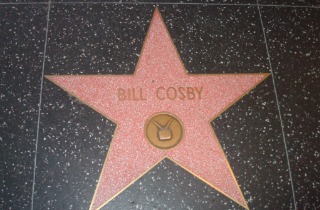 Ever since it came to public light that Bill Cosby admitted to purchasing qualuudes that he planned to give to woman he wanted to have sex with, the comedian's rape allegations were given new life from the outcry.
Many people have demanded since then that his star ought to be removed from Hollywood's famous Walk of Fame. In an emailed statement to the Hollywood Reporter, Hollywood Chamber of Commerce took a hard line and said that despite widespread demands, the star won't be going anywhere.
"The answer is no," said president and chief executive Leron Gubler. "Once a star has been added to the Walk, it is considered a part of the historic fabric of the Hollywood Walk of Fame. Because of this, we have never removed a star from the Walk."
This is not the first time that questions have been raised about what would happen to a star if it's recipient ever fell from grace. Johnny Grant, who previously headed the Hollywood Walk of Fame Committee, once said that the stars were solely meant to represent a person's historical value to the entertainment industry as a whole.
"Stars are awarded for professional achievement to the world of entertainment and contributions to the community. A celebrity's politics, philosophy, irrational behavior, outrageous remarks or anything like that have never been cause to remove a Walk of Fame star."
Cosby's star has been defaced multiple times ever since the allegations arose in 2004. Separate letters have been sent, requesting that Donald Trump's star be removed as well, following his explosive comments about Mexicans.
[Image via Stefan Bernd]
Have a tip we should know? tips@mediaite.com