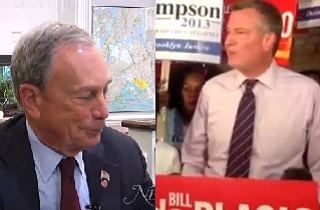 New York Mayor Michael Bloomberg has landed him self in hot water by failing to Stop and Frisk his own comments on the New York City mayoral race. In an interview with New York Magazine, Bloomberg said that Democratic frontrunner Bill de Blasio has been running a campaign that is "Class-warfare and racist," quickly adding "Well, no, no, I mean he's making an appeal using his family to gain support."

Over the weekend, de Blasio fired back, calling the Mayor's comments "inappropriate," and expressing a hope that Bloomberg will "reconsider what he said."
In an interview with New York Magazine's Chris Smith, Mayor Bloomberg stepped in it with this analysis of Democrat Bill de Blasio's mayoral campaign:
Then there's Bill de Blasio, who's become the Democratic front-runner. He has in some ways been running a class-warfare campaign—
Class-warfare and racist.

Racist?
Well, no, no, I mean* he's making an appeal using his family to gain support. I think it's pretty obvious to anyone watching what he's been doing. I do not think he himself is racist. It's comparable to me pointing out I'm Jewish in attracting the Jewish vote. You tailor messages to your audiences and address issues you think your audience cares about.
Yes, imagine if Bloomberg ever did that:
Buzzfeed took some time to point out all the ways Bloomberg has indeed played up his Jewishness to attract Jewish voters, like when he sent out "an eight-page mini-magazine with photos of 'Mike the Mensch' wearing a yarmulke" in 2005, or when he sent mail to Jewish voters also directly pointing out the fact he was Jewish in 2001.
After the interview was published online, NY Mag added the asterisked phrase, and the following notation:
*The mayor's office asked us to amend the remarks to add an interjection that was inaudible in our audiotape of the interview, which was conducted over speakerphone. In our view the added words do not alter the meaning of the exchange as reflected in the published interview.
Over the weekend, de Blasio spoke to reporters about Bloomberg's comments, which also included a further defense of the city's Stop and Frisk policy, calling the comments "inappropriate" and "unfortunate," and took the opportunity to underscore his campaign's message. He cited income inequality and that Stop and Frisk policy as realities that must be acknowledged, and concluded by saying "I am exceedingly proud of my family."
"And as you'll all know, meeting each and every member of my family," de Blasio continued, "they are, each and every one, strong and independent, and make their own decisions, and we have all proceeded as a family together, and it's been an extraordinarily positive experience for us. So, all I can say is, I hope the Mayor will reconsider what he said, I hope he'll realize that it was inappropriate, and I think the people of this city are ready for us to move forward together."
Here's YouTube video of de Blasio's remarks, via The New York Daily News:
[photos via screengrab]
Have a tip we should know? [email protected]