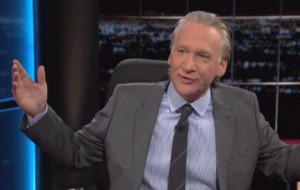 In an op-ed piece for The New York Times, HBO host Bill Maher — no stranger to demands for apologies and retractions — shares a plea for his fellow public figures: Please stop apologizing.
He refers specifically to GOP hopeful Newt Gingrich's recent demand that President Barack Obama issue a formal apology for a joke made by actor Robert DeNiro:
RELATED: Robert DeNiro Responds To Newt Attack: Joke Was 'Not Meant To Offend'
This week, Robert De Niro made a joke about first ladies, and Newt Gingrich said it was "inexcusable and the president should apologize for him." Of course, if something is "inexcusable," an apology doesn't make any difference, but then again, neither does Newt Gingrich.

Mr. De Niro was speaking at a fund-raiser with the first lady, Michelle Obama. Here's the joke: "Callista Gingrich. Karen Santorum. Ann Romney. Now do you really think our country is ready for a white first lady?"

The first lady's press secretary declared the joke "inappropriate," and Mr. De Niro said his remarks were "not meant to offend." So, as these things go, even if the terrible damage can never be undone, at least the healing can begin. And we can move on to the next time we choose sides and pretend to be outraged about nothing.
Kumbaya!
Maher then poses a salient question for his readers. "When," he asks us, "did we get it in our heads that we have the right to never hear anything we don't like?" It calls to mind similar remarks made by another recognizable name whose comments have also stirred up their fair share of public outrage. "I'm not sorry for anything I said…Nobody has the right not to be offended. And, don't forget: Just because you're offended, doesn't mean you're in the right."
The comedian proposes a solution he thinks all of The Outraged — both those on the left and on the right — can be happy with: a National Day of No Outrage, perhaps this very Sunday.
The important thing to keep in mind, he says, is to learn how to coexist with one another, and to be able to live both with being annoyed and with the source of one's annoyances. Because disagreement, he reminds us, isn't a negative or something to be avoided or suppressed — in fact, it's quintessentially American:
"I don't want to live in a country where no one ever says anything that offends anyone. That's why we have Canada."
h/t New York Times
Have a tip we should know? tips@mediaite.com