Bill Murray Gave His Extra World Series Ticket to a Random Cubs Fan Outside the Ballpark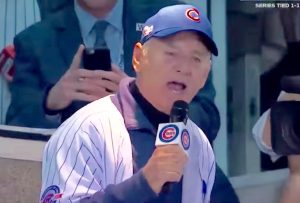 Maniacal Cubs fan Bill Murray has been everywhere during the World Series. From his Daffy Duck-style rendition of "Take Me Out to the Ballgame" to the roughly one zillion camera cuts of him in the stands on the FOX broadcast (and seriously, we beg you FOX production staff: please, please stop showing Murray after every single key play), the actor has been omnipresent over the past eight days.
Murray made the trip to Cleveland to cheer on the Cubs as they try to win their first World Series in 108 years. And as it turned out, he had an extra ticket.
That proved to be a great thing for Karen Michel, a Cubs fan who was loitering around the ballpark hoping to gain entry.
MLB.com reports that Michel spotted Murray and followed him for a bit, when all of a sudden…
"He turns around and says, 'Here, here's a ticket,'" Michel said. "And he kind of shuttled me into the door."
Best-dressed @Cubs fan: Bill Murray.https://t.co/Gakb3YrlAB #WorldSeries pic.twitter.com/SftDtm6En7

— MLB (@MLB) November 2, 2016
Together, they watched the Cubs take a 9-3 victory and force a decisive Game 7.
"I watched five games at home and they're showing (Pearl Jam frontman) Eddie Vedder, (former Chicago Blakhawks player Chris) Chelios, whatever, and I'm like, 'I wonder if I'll see any of those people,'" Michel told MLB.com. "Of course now, I'm here, and I see all kinds of people."
Speaking of Vedder, a video was posted on the Pearl Jam Radio Facebook page of Vedder performing an acoustic version of The Band's classic song "The Weight" at a house party in Wrigleyville following Game 4. Murray was there too, and in the video, he's seen singing along.
No doubt, Murray will be on hand again tonight as the Cubs hope to complete their Cinderella story.
[image via screengrab]
–
Follow Joe DePaolo (@joe_depaolo) on Twitter
Have a tip we should know? tips@mediaite.com
Joe DePaolo - Senior Editor