Billioinaire Ex-Football Team Owner Declares He'll Be Rubio's Sugar Daddy if He Runs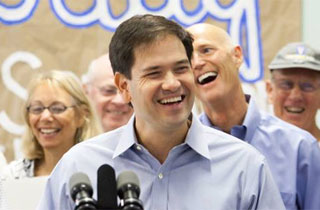 Sen. Marco Rubio (R-FL) hasn't even declared himself as a candidate for the 2016 presidential election, but that hasn't stopped Floridian billionaires from declaring that they'd pour money into his campaign super PACs, if such a thing were ever established, wink wink.
Actually, it's not even in the "wink-wink" kind of territory anymore: Norman Braman, a longtime Rubio donor and former owner of the Philadelphia Eagles, straight-up admitted that "if there is a super PAC that's founded, I will give substantially."
"I don't pay any attention to that other distinguished Floridian," he told the Washington Post. "I respect Jeb Bush, but I think we need someone who represents the next generation."
Though he didn't name a specific amount of money, the Post's sources speculated that Braman would give up to $10 million in unlimited super PAC money, which, as we all know, legally cannot be used in coordination with the campaign, but who cares, there's ways to get around that.
Braman also hinted that "there are a number of people in a similar financial position that have indicated strongly that they will be supportive" of Rubio:
Among Rubio's supporters are a cadre of donors who participate in the political network organized by industrialists Charles and David Koch, according to a person familiar with their thinking. Rubio has also been intensely courting casino magnate Sheldon Adelson. The two had a long, one-on-one dinner Monday at a Washington steakhouse… Rubio advisers also say he's made enough inroads with the broader donor class that the senator will be able to raise significant funds for his own campaign operation — perhaps $40 million to $50 million by next year's Iowa caucuses.
While this number is less than half of what the "other distinguished Floridian" is expected to bring in, Rubio's advisors think that he could run a leaner, more efficient operation; dependent, of course, on his not coordinating with the super PACs with all those millions of dollars oh who are we kidding.
[h/t The Hill]
[Image via Marco Rubio/Facebook]
—
>> Follow Tina Nguyen (@Tina_Nguyen) on Twitter
Have a tip we should know? tips@mediaite.com