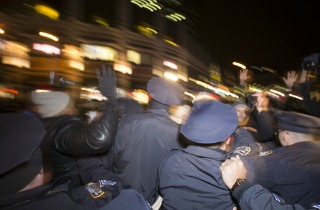 With recent deaths of unarmed black men and the killing of two NYPD officers in apparent retaliation, much of the national conversation this month has focused on the relationship between minority communities and the police officers stationed there. So Reuters reached out to black ex-cops to hear their experiences, and many of them actually had some negative things to say.
According to Reuters, of the 25 black ex-cops they spoke to, 24 of them said they had been victims of racial profiling at one time or another while they were serving. When they were off-duty, these men said, they've had fellow officers pull them over for no reason, stopped and frisked, and in some cases had guns pulled on them.
One of these ex-cops said he was jogging down the street once and was stopped. He doesn't understand exactly what was supposed to be suspicious about just jogging down the street.
However, a former black LAPD chief takes issue with making this into some kind of trend:
"It makes good headlines to say this is occurring, but I don't think you can validate it until you look into the circumstances they were stopped in…

"Now if you want to get into the essence of why certain groups are stopped more than others, then you only need to go to the crime reports and see which ethnic groups are listed more as suspects. That's the crime data the officers are living with."
[image via a katz/Shutterstock]
— —
Follow Josh Feldman on Twitter: @feldmaniac
Have a tip we should know? tips@mediaite.com
Josh Feldman - Senior Editor