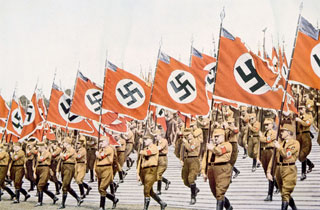 Today, President Barack Obama signed the "No Social Security for Nazis Act," into law, which is a law that prevents Nazis from receiving Social Security, which, um, how was this not already a law?
According to the new law, former Nazis who were expelled from the U.S. for war crimes will no longer be eligible for Social Security. And the AP says you can thank the AP: in October, they published a report revealing that though they were stripped of their US citizenship, former Nazis living abroad were able to collect millions of dollars in Social Security, in some cases receiving more money than actual US public employees.
Controversially, the AP discovered that the Department of Justice was partially responsible for giving Nazis Social Security:
The Justice Department wanted the loophole retained because it gave the department leverage to convince Nazi suspects to leave the country, according to the AP's investigation. If they signed a settlement agreement with the department, or simply fled the United States before being deported, their Social Security payments would keep coming. They'd lose their citizenships, but keep their benefits.

That meant the Justice Department could expel Nazis relatively quickly to countries where they would be prosecuted. Many of the suspects were aging and the department didn't want them to die in the United States before they stood trial.

Only 10 suspects were ever prosecuted after being expelled from the U.S., according to the Justice department's figures.

The Justice Department denied using Social Security payments as a tool for expelling former Nazis.
Unsurprisingly — or surprisingly, considering how slow Congress is these days — it took less than three months for the "No Social Security for Nazis Act" to become a law. But remember, it took seventy years for Nazis to not receive Social Security benefits, so. Yeah.
[h/t AP]
—
>> Follow Tina Nguyen (@Tina_Nguyen) on Twitter
Have a tip we should know? tips@mediaite.com