Amidst all the recent stories of tension between police officers and minority populations, there's still the occasional viral story showing that there's still some good in the world, and that the negative treatment of minorities is not uniform.
This is one of them.
Grag Barnes decided to document his recent experience with a white cop who pulled him over for speeding, which later became a post on Facebook. The message explains that the encounter occurred with complete respect for one another, with the cop agreeing to take a selfie with Barnes before going their separate ways.
"He was doing his job, and I had made a mistake in trying to hurry home to get started moving that lead to our path's crossing," Barnes wrote. "In the end we both thanked each other for our mutual displays of respect and agreed to take a 'selfie' together to help tell our story."
Barnes used the rest of his message to remind people that there is no single occupation made up entirely of bad eggs, and that everyone must remember to respect each other more. His post has now been shared over 425,000 times, and has seen significant traction on Twitter with the hashtag "#Respect."
Barnes also posted a follow-up message, where he thanked everyone who appreciated his photo and said that "together, we, the only race that matters, the human race, can all make this world a better place than we found it."
Read see his original post here: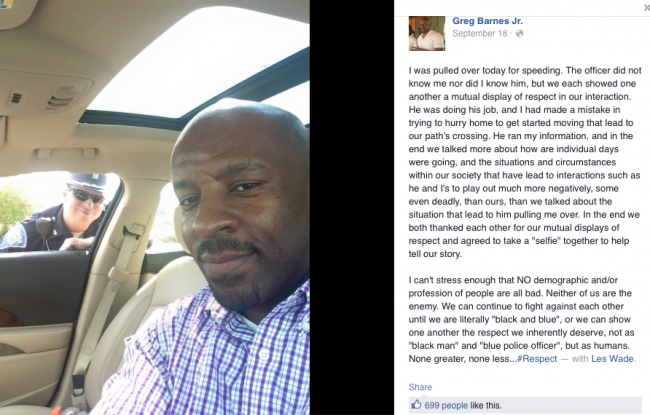 [h/t The Blaze]
[Image via Facebook]
— —
>> Follow Ken Meyer (@KenMeyer91) on Twitter
Have a tip we should know? tips@mediaite.com