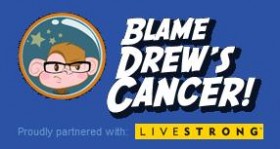 Having a bad day? Feeling cranky? Blame Drew's Cancer — over a hundred thousand people have already.
On May 20, 2009, Drew Olanoff was diagnosed with Hodgkins Lymphoma. Amazingly, instead of crumpling in the face of such a diagnosis, he has turned it into an amazing social media experiment in awareness-raising, encouraging people to blame his cancer for anything and everything, creating a link between thousands of strangers who get a lesson in relativity and perspective every time they blame the day's irritations on, well, Drew's cancer.
Now #blamedrewscancer is a well-used hashtag on Twitter — and Drew is a social media pioneer, leveraging the goodwill and notoriety of the idea for fundraising. He's now partnered with Lance Armstrong and LIVESTRONG; when he beats cancer, their goal is to raise a dollar for every participant so that others might, too.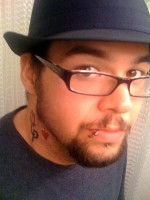 In the meantime, he's become a social media expert in philanthropy and activism, an impressive fundraiser (and party-thrower), and a one-man support sytem for others going through similar battles (there he was in the comments section offering his support when Jeff Jarvis announced his own cancer last week). Wrote Drew in the post that started it all off: "I have cancer, but cancer doesn't have me."
Now, his friend, musician Paul Dateh has joined the cause, writing the "Blame Drew's Cancer" song: "I'm blaming Drew's Cancer today, to make it all go away…" It's a really pretty song, and Dateh sings both lovely backup and rocks some excellent violin on the track, and in the video below. Enjoy it, and then Blame Drew's Cancer for whatever you don't like. Me, I'm going to blame it for the fact that I wrote this post and now I am late. Worth it.
Listen below, and donate here:
Have a tip we should know? tips@mediaite.com