Bloomberg Says He 'Really Strongly' Disagrees With Other Cities Warning Chick-Fil-A To Stay Out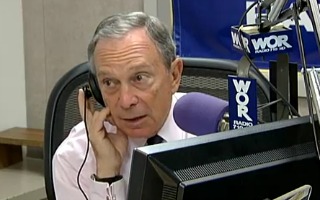 When the fast food chain Chick-fil-A's president came out against same sex marriage rights earlier this month, he sparked a controversy that prompted officials in cities like Philadelphia, Boston, San Francisco and Chicago to say the restaurant franchise is not welcome in their cities. On Saturday, New York City Mayor Mike Bloomberg distanced himself from those politicians saying that he does not think it is the place of government to tell private businesses where they can and cannot set up shop.

RELATED: NY Times Buries The Lede: Anderson Cooper's Ratings Surge At 8PM
Mayor Bloomberg told the audience of his weekly radio program on Saturday morning that he did not agree with the comments of officials like Boston's Mayor Thomas Menino who warned local businesspeople that they would be advised to reconsider setting up a Chick-fil-A franchise in his city.
You can't have a test for what the owners' personal views are before you decide to give a permit to do something in the city. You really don't want to ask political beliefs or religious beliefs before you issue a permit. That's just not government's job.
Bloomberg said that government should not adopt any kind of political "litmus test" to measure the "purity of thought" of businesses when determining whether or not to grant permits.
On Thursday, Menino – who had said that he felt establishing a Chick-fil-A restaurant in Boston would be an "insult" to the city – walked back his comments and said that he was just "using the bully pulpit of being mayor of the city" to dissuade the chain from expanding into Boston.
"But I didn't say I would not allow them to go for permits or anything like that. I just said we would do everything we can, bully-pulpit wise," Menino told the Boston Globe.
h/t Gawker
> >Follow Noah Rothman (@Noah_C_Rothman) on Twitter
Have a tip we should know? tips@mediaite.com