Bloomberg Television Pushes Its Pricey 'Terminals' as Part of Financial Market Coverage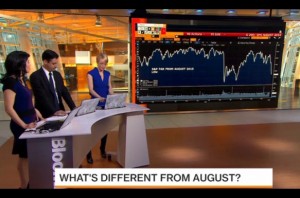 If you have watched the Bloomberg Television Network as of late you might have noticed something different about the way they cover market trends and analysis than say Fox Business or CNBC. Unlike its competitors, Bloomberg Business also seems to be constantly referring to a device to access the very best information. It's called the Terminal, and in its news coverage, Bloomberg on-camera talent are constantly referring to Bloomberg's very own pay-per-subscription package, thereby encouraging viewers to invest in the very service disseminated from Bloomberg itself.
The Bloomberg Terminal is a marketing research tool that people or businesses can subscribe to for the latest in the world of financing; packages average around $24,000 a year, and reports indicate that the large majority of its $8 billion in annual revenue is generated from user-purchased Terminal subscriptions. Bloomberg even offers a unique keyboard for its users for ease and functionality and finger-scanning biometric authentication.
Hosts and reporters at Bloomberg News, each armed with their own "terminal," regularly push the product as the means of being in-the-know. The company offers the following description on its website about the service:
The Bloomberg Professional® service (the Terminal) is the most powerful and flexible platform for financial professionals who need real-time data, news and analytics to make smarter, faster, more informed business decisions.
It's impossible not to watch any of the around-the-clock financial coverage on Bloomberg Business without hearing reference to the Terminal every few minutes; hosts and analysts are regularly digging "into my Terminal" for market projections and stock analysis. You could play a shockingly effective drinking game with the repeated number of Terminal references.
According to an October FastCompany report on the growing popularity of the Bloomberg Terminal, more than 325,000 subscribers take advantage of the Terminal regularly. It "processes 60 billion pieces of information from the market a day," according to the report.
However effective it is or is not, it sure feels like what we in the digital world call sponsored content — advertisements integrated to feel like actual content. But in this case there is no disclosure. Bloomberg is doubling-down on the influence of its own creation — and betting that viewers will take the bait. Sure, other networks promote their own films, tv shows or theme parks but this feels like another level where the network may even exist in large part just to promote its paid terminals.
To boil this move down: Bloomberg News is, at the same time, the Bloomberg Terminal-Shopping Network, vital market information with seemingly covert product advertising.
[image via screengrab]
—
>> Follow J.D. Durkin on Twitter (@MediaiteJD)
Have a tip we should know? tips@mediaite.com