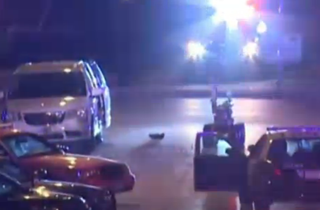 Police shot and killed an armed gunman after he opened fire at "multiple" government buildings early this morning in downtown Austin, Tx.
The gunman, who has not been identified, fired nearly 30 rounds into a federal courthouse, the Mexican Consulate, and the Austin Police headquarters at 2:22 AM local time before being shot by a police officer. According to KXAN, emergency personnel then attempted to treat the suspect, before noticing what appeared to be an improvised explosive device in his car and that he was wearing a "suspicious vest," forcing them to retreat and call in a bomb squad. The man eventually died, but as of 6 AM EST, authorities have not been able to approach him due to the ongoing threat of a potential bomb.
I-35 has been shut down, as the investigation is still ongoing.
Eyewitnesses report that bullets had penetrated bulletproof glass windows in all the buildings, and that it seemed as if the shooter had aN UNKNOWN agenda:
Jesse Van Wallene, 29, told NBC News he found himself around 15 feet away from the shooter when he stopped at a red light and spotted him with a "large gun in his hand."

"He was in full gear so he didn't seem like a civilian, but there was no writing on any of the equipment," the restaurant server said. "It seemed like he was wearing a bullet-proof vest and he was wearing a helmet with a clear visor over his face."

Van Wallene said the gunman started shooting at a building opposite the police headquarters. "He was firing in bursts of about five shots," he recalled. "He didn't even seem to acknowledge we were there, he just seemed very focused on firing at the building, which had no lights on inside. The girl in my car said, 'Go, let's get out of here.' We ran the red light."
Watch below via NBC News:

[NBC News]
[Image via screenshot]
—
>> Follow Tina Nguyen (@Tina_Nguyen) on Twitter
Have a tip we should know? [email protected]