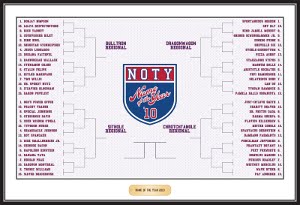 Maybe your NCAA Tournament bracket is shot after Kansas' stunning second-round loss. Maybe you weren't into the NCAA Tournament in the first place. Or maybe you just need some unbelievable (but real) names in NCAA-style bracket form to keep you occupied in between tournament games. In any case, the real bracket to get excited about is here. That's right – Name of the Year (NOTY) is back with the latest installment in its annual quest to bring you some of the wildest names imaginable, and giving you the power to vote on the best of the bunch. The bracket is here. You will look up many of these names in amazement, and you will discover, to even more amazement, that yes: they are real.
If you haven't looked at the bracket yet – what are you waiting for? But just trust us when we tell you it is a goldmine of pure naming bliss. According to the Name of the Year blog, the contest began in 1983 at an unnamed Ivy League school. It has since evolved into a group of three friends taking submissions from readers around the Internet, distilling the list to the 64 wildest entries, and placing them in a bracket nearly identical to that of the NCAA basketball tournament. Four "regions," 16 names per region, and one mind-blowing name crowned the champion of weirdness. Past winners include last year's champion Barkevious Mingo, Godfrey Sithole, Excellent Raymond, and the legendary Assumption Bulltron. Let's break down the 2010 NOTY Tournament:
Bulltron Regional: It's going to be very, very tough to take down the top seed, St. Joseph's track athlete Nohjay Nimpson…but her first-round opponent, Lolita Respectnothing, just might be up for it. Still have to give the edge to Nimpson to take not only that matchup (clearly an atypical 1-vs.-16) but the entire region. The 2-vs.-15 in this regional should be interesting as well, with small college quarterback X'Zavier Bloodsaw facing off against LSU guard Daron Populist. (Names in the NOTY bracket need not be sports-related, but a good number of them are.) Look for Bloodsaw to overcome Populist's appeals to the working class and advance to the regional final before falling to Nimpson. There's a creepy "genocidal dictators" 6-vs.-11 matchup here, Stalin Felipe vs. Hitler Makofane. The prospect of someone named Hitler from checkered-racial-history South Africa is just a bit too much to take. This region also appears ripe for a 12-over-5 upset, with Sequoyah Stonecipher defeating Dirk Cool.
Sithole Regional: Again, the top seed (God's Power Offor) will likely prove unbeatable, and make for a potentially epic semifinal showdown with Nimpson. Another excellent 2-vs.-15 matchup in this region as well, with Tronic Williams meeting Waver Brickhouse. Special Jennings might give Offor a run in the second round, but his biggest challenge might be the region's 5th seed, Coke Wisdom O'Neal. His first round opponent (Typhoon Nurse) will be tough, but he should prevail, only to eventually fall at the hands of God's Power (Offor). Offor's toughest potential opponent in the region is Dick Smallberries Jr. (how are these names real?!), but Offor still probably wins it.
Dragonwagon Regional: Another strong top seed here (Spontaneous Gordon), but after all, it's not often that all four top seeds win their regions, so perhaps a dark horse triumph is on order. The guess here is Gregor Schwinghammer Jr. knocks Gordon off in a second-round upset, but can't get past 15-seed Pamela Balls Organista, whose Cinderella run will include triumphs over Schwinghammer and the winner of the to-close-to-call showdown of Aristotle Socrates and the ingenious Starzanne Stipes. Also look out for the 4-vs.-13 first-round matchup between Steele Sidebottom and Pizza Ashby.
Chrotchtangle Regional: This might be the most wide-open region – so wide-open that we're calling for a 16-over-1 upset, with Just-in'love Smith losing out to Charity Beaver. The 8-vs.-9 matchup here is as even as the seeding, with Dr. Festus Dada taking on Karma Sherpa. The opposite images each name evoke – we can only assume Dr. Dada is out to overthrow traditional medical practice, whereas "Karma Sherpa" seems to stress serenity and peace of mind – make for an intriguing matchup, but the feeling here is Beaver triumphs over either one. She'd be in for a tough challenge, however, from any of Flavius Killebrew, Spartacus Bernstein, Pencilman Jeffries, Furious Bradley, and Wave Ryder. The gut feeling is that Bernstein comes out on top.
In the semifinals, Bernstein will prove too much for Organista to handle, while Offor defeats Nimpson in one of those matchups that feels like it's for the championship. And though Spartacus is no doubt powerful, it will be no match for Offor in the championship. The 2010 name of the Year will be God's Power Offor, and one shudders to think of the fate awaiting any person who goes against a name like that.
Have a tip we should know? tips@mediaite.com