Boston Suspect Says They Acted Alone, Brother Drove The Attack Motivated By Religion
Boston Suspect: We Acted Alone, Brother Drove The Attack Motivated By Religion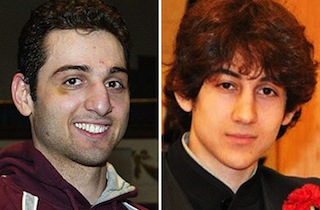 Boston bombing suspect Dzhokhar Tsarnaev reportedly told officials that he and his brother, Tamerlan Tsarnaev, acted alone without any ties to international groups. Tsarnaev, according to CNN, also said his brother was the driving force behind the attack — and said they were motivated by religion.
The 19-year-old suspect told officials the attack was plotted from the Internet, and they used instructions from an online Al Qaeda magazine to make the pressure cooker bombs, according to ABC News. The motivation is said to be religion:
Authorities tell ABC News they now believe the two foreign-born brothers were inspired to violence by the Internet preaching's of al Qaeda leader Anwar al-Awlaki, the charismatic American-born radical jihadist, who has been dead now for more than a year.
Tsarnaev also told authorities that his older brother, who died in a firefight, was motivated by "his hatred of America, and its policies in Afghanistan and Iraq" — and that information from the brother appears to be consistent with what many observed about the older brother. Namely, "his disgust with things American and Christian."
Authorities, though, did warn that the information is based on preliminary interviews and they do need to follow up and cross-check the suspect's account. It would be in his interest, obviously, to downplay his own role in the attack.
Tsarnaev, who is currently receiving medical treatment, is being questioned by investigators every few hours and has been communicating mostly by nodding his head and sometimes writing down answers. He has been charged with using and conspiring to use a weapon of mass destruction, and one count of malicious destruction of property by means of an explosive device.
Have a tip we should know? tips@mediaite.com