Federal Judge Grants Stay Putting Trump's Immigration Executive Order on Hold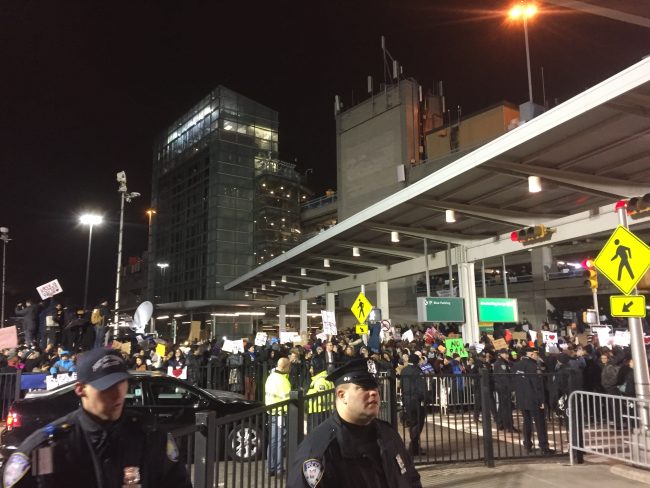 Judge Ann Marie Donnelly in New York has granted an emergency national stay, freezing the executive order that President Donald J. Trump signed into action Friday afternoon.
Judge Donnelly "The stay is granted!"

— Jackie Vimo (@JackieVimo) January 29, 2017
BREAKING: ACLU wins emergency, national stay of Trump's refugee ban https://t.co/UqA1caSzxi

— CNBC Now (@CNBCnow) January 29, 2017
The American Civil Liberties Union has been fighting on behalf of the detainees who have been held at New York City's JFK Airport since Trump's executive order suspended immigration for citizens from Iran, Iraq, Syria, Somalia, Sudan, Yemen, and Libya.
This means that none of the passengers who arrived in the United States from those countries currently being held can be legally sent back to their countries of origin, but it is unclear if they can be released. Cheers erupted through JFK's Terminal 4 minutes ago when news of the emergency stay made it way to the gathered crowd of protestors. The ACLU said, "Stay granted, stay is national, we won."
Stay covers all those who were in transit and are being detained at airports. Important first win–thank you @ACLU attorneys! #NoBanNoWall

— ACLU of Ohio (@acluohio) January 29, 2017
Clarification:Stay covers the airport detainees and those currently in transit. Doesn't change ban going forward. Prev unclear tweet deleted

— Jessica Huseman (@JessicaHuseman) January 29, 2017
Despite the celebrations by the ACLU over the swift reversal, the Trump administration will still have the opportunity to sign further executive action as the next steps in the saga. MSNBC's Chief Legal Correspondent Ari Melber cautioned that the stay is simply a temporary development, saying, "…the first blowback to his cascade of executive action," but noted that, "it will have some constraint on what [President Trump is] trying to do."
CNN's Jim Sciutto further points out that the stay is exactly that — a stay for those who are already here, indicating there will be a, "Massive court fight to come."
To be clear, this stay is temporary and only applies to those already here in US or in transit. Massive court fight to come. #travelban

— Jim Sciutto (@jimsciutto) January 29, 2017
This information is developing and we will update as we know more.
Have a tip we should know? tips@mediaite.com