Military Coup in Turkey; Armed Forces Declare Martial Law
Military Forces Denounce President Erdogan; Chaos, Gunfire as Protesters Take to the Streets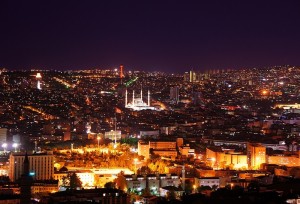 Elements within the Turkish Armed Forces are claiming to have successfully taken over the government in coup Friday night and early Saturday morning local time.
In the early hours of the coup, reports began coming in of gunfire in the Turkish capital city of Ankara and closures of major bridges in Istanbul, while witnesses reported low-flying jets and helicopters passing over the skies and tanks and armed soldiers patrolling the streets of both cities.
Hours later, footage from the streets of Istanbul showed scenes of chaos as civilians took to the streets in massive numbers amid frequent, pervasive sounds of gunfire. Some appeared to be carried away with injuries.
In a statement released on state broadcaster TRT, the Armed Forces announced that they had taken control of the country and imposed martial law. They have shut down all airports and ports and instituted a curfew. They have pledged to abide by all international agreements.
The scripted statement was reportedly given by soldiers to anchors to be read on the air.
"Democratic and secular rule of law has been eroded by current government," the military statement said. They said that the country will be run by a "peace council which will ensure safety of the population" and that they want to create a new constitution "as soon as possible."
BREAKING: State broadcaster TRT saying curfew imposed across #Turkey

— Lisa Daftari (@LisaDaftari) July 15, 2016
BREAKING: State broadcaster TRT reading statement on orders of military, a new constitution to be prepared "as soon as possible"

— Lisa Daftari (@LisaDaftari) July 15, 2016
BREAKING: "Democratic and secular rule of law has been eroded by current government" Military statement on Turkish TV #Turkey

— Lisa Daftari (@LisaDaftari) July 15, 2016
BREAKING: Turkey now being run by "peace council which will ensure safety of the population" Military statement

— Lisa Daftari (@LisaDaftari) July 15, 2016
An Englishman on vacation in Istanbul described to The Telegraph a scene of increased military and police presence throughout the city all day. He reports that a bartender told him, "The army are taking over everything."
In a statement, the Armed Forces responsible said the coup is intended to wrest control from Turkish President Recep Tayyip Erdoğan, whose government has been criticized for its socially conservative, more strictly Islamist, and authoritarian policies. The coup is intended to bring about "friendly relations" with the rest of the world and to "restore democracy and human rights," according to CNN's Jim Sciutto who read a "rough translation" of the statement on the air.
Turkish Prime Minister Binali Yildirim said "it would be wrong to call it a coup" but confirmed this was an action carried out by "part of the military." He urged calm and said that those responsible "will pay the highest price."
Erdogan released a statement via Skype, affirming that the government was still in control and urging his supporters to go out into the streets. He served as Prime Minister of Turkey from 2003 to 2014 and assumed the presidency in 2014.
TRT subsequently went off the air. There are reports of an explosion at the TRT television building in Ankara.
The Turkey Secret Service building is on fire.
BREAKING NEWS: Turkish secret service headquarters burning down in Ankara

— Tancredi Palmeri (@tancredipalmeri) July 15, 2016
"Given the scale of the operation, it is difficult to imagine they will stop short of prevailing. It's not just a few colonels," a senior European Union source told Reuters.
Cemal Hasimi, the Turkish Prime Minister's senior advisor, told CNN that the forces behind the coup were a "small group within the army," and that government was succeeding in wresting control from them. "Protecting Turkish democracy is the most important thing to promoting regional and global security," Hasimi said.
You can view a livestream of the events here:
Despite the curfew, videos and photographs shown large crowds pouring into the streets.
People 'pouring onto streets' in #Ankara #Turkey despite curfew after military coup https://t.co/p3243A96Bt RE pic.twitter.com/ic5d0bmT3s

— Daily Mirror (@DailyMirror) July 15, 2016
COUP IN TURKEY: MILITARY TAKES OVER, REFUSES LANDING RIGHTS TO PRESIDENT https://t.co/AiaIpBLRno pic.twitter.com/Kw2wm6WMe7

— Business Insider (@businessinsider) July 15, 2016
Ataturk Airport in Istanbul has been closed. There are reports of gunfire at the airport.
BREAKING: Entrance to #Ataturk Airport closed, tanks deployed outside airport, as army confirms it has seized power in #Turkey

— Lisa Daftari (@LisaDaftari) July 15, 2016
According to reports, the websites Twitter, Facebook, Vimeo, and YouTube had all been blocked in Turkey.
Confirmed: Twitter, Facebook & YouTube blocked in #Turkey at 10:50PM after apparent military uprising in #Turkey pic.twitter.com/J9ER5yOGYP

— Turkey Blocks (@TurkeyBlocks) July 15, 2016
The Telgraph reports that both of Istanbul's bridges across the Bosphorus had been "closed by the gendarmerie – a branch of the Turkish military dedicated to internal security."
BREAKING Turkish PM Yıldırım to NTV: This is a mutiny attempt,we will not let this attempt win.We will uphold democ. pic.twitter.com/tgxXDUvFL5

— CNN Türk ENG (@CNNTURK_ENG) July 15, 2016
Twitter is awash with videos of low-flying aircraft over the cities of Ankara and Istanbul as well as tanks and armed soldiers in the streets.
Turkish tanks supposedly at Istanbul Ataturk Airport. pic.twitter.com/xFHJeyFnW2 https://t.co/jbmUGZbNYY

— Patrick Megahan (@PatMegahan) July 15, 2016
Footage shows rapid movement of military jets in #Istanbul, army deployed to streets, two main bridges closed. pic.twitter.com/k9LAr5seQK

— Rudaw English (@RudawEnglish) July 15, 2016
Another video showing an extremely low fly-by of a jet as emergency lights flash in downtown #Ankara #Turkey. pic.twitter.com/AtILvQ5XZc

— Mr Red Ghost (@Mr_Ghostly) July 15, 2016
Turkish soldiers block both bridges on the Bosphorus in Istanbul and jets flying low in Ankara. Reason not clear yet pic.twitter.com/tMG7KKYvGh

— Selin Girit (@selingirit) July 15, 2016
Lots of low flying military aircraft over Ankara in this feed. https://t.co/JdcdpGgu5S

— Noah Rothman (@NoahCRothman) July 15, 2016
UPDATE –– 7:34 pm EDT: There is a video going around Twitter showing a helicopter firing at something on the ground:
New footage shows helicopters firing a target on the ground in #Turkey: pic.twitter.com/PYY3Q0M8oV

— Philip Lewis (@Phil_Lewis_) July 15, 2016
UPDATE –– 7:44 pm EDT: There are now reports that a bomb has been thrown at the Turkish Parliament building.
UPDATE –– 7:53 pm EDT A spokesperson for Turkish national intelligence is saying the coup attempt has been "repelled."
UPDATE –– 8:40 pm EDT: Members of the Turkish parliament are currently hiding in shelters:
JUST IN: Member of Turkish parliament reached by phone tells Reuters lawmakers hiding in shelters at parliament: https://t.co/ulFOwFbMjE

— Reuters Top News (@Reuters) July 16, 2016
Meanwhile, the state-run TV station TRT has been basically taken over by the military. A broadcaster earlier said they were forced at gunpoint to read a statement, and now this is happening:
Just got asked to leave work (the state broadcaster) by about 40 or 50 armed soldiers. They took our phones. #istanbul

— Arabella Munro (@arabellamunro) July 15, 2016
CNN Turkey anchor says she's being taken off the air by soldiers entering the studio. Live. And it's off.

— Zeynep Tufekci (@zeynep) July 16, 2016
UPDATE –– 9:07 pm EDT: This image of an explosion at the Parliament building has been making the rounds on social media:
Photo best showing the moment of the explosion in Tutkey parliament where lawmakers are in the shelter pic.twitter.com/mKZsbtiX9x

— Mutlu Civiroglu (@mutludc) July 16, 2016
UPDATE –– 9:36 pm EDT: CNN Turk is reporting 12 dead in the Parliament building explosion.
UPDATE –– 10:41 pm EDT: 42 people are reported dead:
BREAKING Ankara #Gölbaşı Prosecutor's Office says 42 dead in #coupattempt in Ankara. pic.twitter.com/F6YSr8AKFP

— CNN Türk ENG (@CNNTURK_ENG) July 16, 2016
And over 100 soldiers have reportedly been arrested.
UPDATE –– 11:30 pm EDT: The video below reportedly shows the chaos inside CNN Turk after the soldiers showed up:
cnn'de darbecilere önce polis, sonra siviller müdahale etti pic.twitter.com/fiw5jVRC9v

— ismail saymaz (@ismailsaymaz) July 16, 2016
Update — Saturday morning: The Turkish government now says the situation is "under control," and places the death toll from the coup attempt at 161.
[featured image: Hamdan Qarmat via Wikicommons. CC BY-SA 4.0]
Have a tip we should know? tips@mediaite.com