Breathe Easy: Snooki Freed, Back To Being Legally Disorderly In Seaside Heights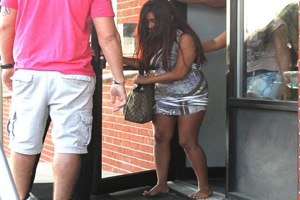 We know most of our loyal readers probably had trouble sleeping last night without knowing the fate of tiny drunken jailbird Snooki, who was arrested in Seaside Heights, NJ yesterday afternoon while filming the third season of Jersey Shore. Well, you can all conclude the candlelight vigils and hunger strikes: Snooks is roaming free on the boardwalk, and didn't have to stay the night.
According to Radar (which has about three more photo galleries of the arrest and aftermath than really necessary, though TMZ got the coveted mug shot), she didn't even have to spend the night. After being arrested, her castmates ran to the jail to bail her out, but no bail was necessary. There was no report for how high her blood alcohol level was as it is not customary for police to check that when a suspect is not driving.
Though multiple sources told RadarOnline.com that the reality star was drinking before her arrest, the police chief said the police are not planning on giving her a blood alcohol test because she was not driving at the time of her arrest. But by far the most interesting comment Radar got was from (still?!) boyfriend Emilio, who we met last Thursday on the show:
"I think she needed this to draw attention to herself and keep up her fame level," her boyfriend Emilio Masella told RadarOnline.com. "She has more competition with the new girl… this is typical, I'm not surprised that she got arrested."
"The new girl" is a character named Deena who was brought in to replace Angelina, "the Kim Kardashian of Staten Island." If Snooki is afraid of this woman dethroning her, well… let's just say we can't wait to see what she brings to the show.
Have a tip we should know? tips@mediaite.com