British Baroness Discovers Google Maps, Is 'Horrified' They're Spying on Her Roses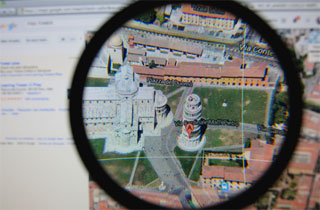 During a hearing in the British House of Lords, committee chairman Detta O'Cathain, Baroness O'Cathain, expressed concern over the regulation of remotely-piloted aircraft systems, a.k.a civilian drones, and the possibility that they could be used to spy on people's gardens and houses from above. Har har, clearly she's never heard about Google Maps.
Wait, had she? From the transcript:
The point that you have been dancing around is very important. I was horrified the other day when I was given a certain website to look at. I could see the roses in my garden. It was on a Google map or something, and I have no idea how it was taken. It was taken from up there. Obviously it was not a large aircraft, but this is happening. It did not fill me with a sense of security.
Let us repeat: she is the subcommittee chairman of the House of Lords' Select Committee on the European Union. (To be fair, others on the panel seemed to be equally clueless, with a deputy director from the Department of Transportation referring to their negotiations with "the Googles.")
The relevant segment of the hearing was tweeted out by reporter Matt Burgess, and blew up the Twitters.
@mattburgess1 @shashj On a similar note, the High Court judge in a case I was covering Friday referred to "Google or whatever you call it"

— Katherine Haddon (@khaddon) October 20, 2014
@mattburgess1 @technicalfault recently learnt the first PM to have a computer on his desk was Cameron. Ignorance displayed seems right.

— Andrew Fergusson (@andrewfergusson) October 20, 2014
@CallenFamily @mattburgess1 Yes. She is also on the Digital Skills Committee, make of that what you will! Source: http://t.co/4WLYy3gKnB.

— Clive Beale (@clivebeale) October 20, 2014
@mjrwebdesign @mattburgess1 a local judge recently told the jury not to go home and discuss the case "in chat rooms or MySpace."

— Heather Burns (@idea15webdesign) October 20, 2014
[h/t Matt Burgess]
[Image via Gil C / Shutterstock.com]
—
>> Follow Tina Nguyen (@Tina_Nguyen) on Twitter
Have a tip we should know? tips@mediaite.com