Meghan McCain Is Certain Her Dad Wishes She Were 'More Like Chelsea Clinton'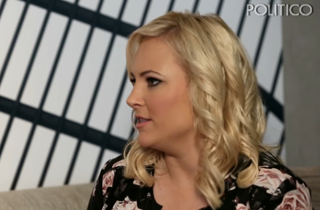 In an interview with Politico, Meghan McCain revealed that she suffers from the same neurotic tic that many political children suffer: not being like Chelsea Clinton, whose parentage has imbued her life with a magical unicorn glow.
While doing an interview about her new talk show Take Part Live, McCain admitted that she thought her dad, Sen. John McCain (R-AZ), was judging her public life by Clinton Spawn standards. "I did an interview with Playboy about a year and a half, two years ago, where I did the 20 questions and I was a little too candid," she said as reference. (The interview contains quotes like "I love sex" and "I'm strictly dickly," things that Chelsea would never, ever, ever say in public.)
"He was not pleased at all," McCain said. "That's actually one of the few fights we've ever gotten in about things I've done publicly. He was just so embarrassed. And he was like, 'Why can't you be like Chelsea Clinton?'"
"He didn't really say that but that's what he's thinking in his mind," she added. "So I just try to curb it a little more. I can't really regret things you just have to move on and live your life."
Girl. Really. Girl. Stop being so harsh on yourself. Sen. McCain probably loves you just the way you are; he just probably doesn't want to hear about your sex life, because he's your dad.
And, frankly, who wants to be Chelsea Clinton? Meghan McCain, you have it good in one respect: no one is staring at your uterus, waiting and demanding that you birth the next president.
The full video of her interview can be found here.
[h/t MediaBistro]
[Image via screenshot/Politico]
— —
>> Follow Tina Nguyen (@Tina_Nguyen) on Twitter
Have a tip we should know? tips@mediaite.com