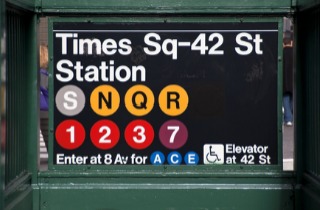 There are few things more frustrating in life than having to navigate public transportation in an unfamiliar city. And British writer Bim Adewunmi went on quite the rant for The Guardian about the New York subway system.
Adewunmi uses descriptors like "hellish" and "needlessly complex" to get across just how maddening she finds the subway. She writes, "I have found myself spiralling into hysteria… It is the work of a sadist, cooked up in a fever dream and delivered with a flourish and an unhinged grin."
The similar color schemes of multiple different lines drove her crazy, not to mention the lack of live departure boards, all leading to the conclusion that "the whole thing resembles a child's approximation of a city transit system."
Adewunmi concludes:
The MTA has forced me to become one of those Brits abroad – the kind that sighs and, with a condescending chuckle, compares everything with "back home".

This is not the New York of my dreams. This is The Hunger Games, only I am not a teenage girl forced to kill other children in an purpose-built arena; I am an adult woman trying to return to my Airbnb flat in Brooklyn. "At least it's cheap," I say to myself as I rock in the foetal position. "At least it's cheap."
And cue the "Oh, yeah, well, London Transit sucks worse!" from New Yorkers in 3… 2… 1…
You can check out Adewunmi's descent into madness here.
[h/t Daily Intelligencer]
[image via Gregory James Van Raalte/Shutterstock]
— —
Follow Josh Feldman on Twitter: @feldmaniac
Have a tip we should know? tips@mediaite.com
Josh Feldman - Senior Editor