Butthurt Iowa Republican Introduces Bill Demanding Apology From Stanford Marching Band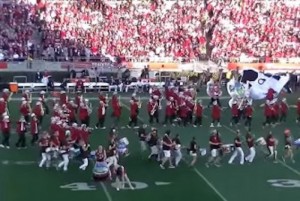 They couldn't overcome the dreaded #CarlyCurse, but legislators in Iowa are taking on another painful consequence of this year's Rose Bowl between Iowa State and Stanford. Not only did the Hawkeyes take a humiliating 45-16 beating at the hands of Stanford's football team, the Hawkeye State took a humiliating beating from the Stanford marching band at halftime, and now, one Republican state senator has introduced legislation to right that wrong:
The Stanford band, which has a history of irreverent performances, poked fun during the halftime show with a dancing cow, a frowning farmer formation and other tongue-in-cheek gestures that upset some Iowans. ESPN, which televised the game, cut away from the band's performance.

State Sen. Mark Chelgren, R-Ottumwa, told The Des Moines Register at the Iowa Capitol on Wednesday that he introduced Senate File 2081 because he believes Stanford officials have condoned improper behavior by the marching band.

"I think it's unfortunate because here in Iowa we try to teach sportsmanship," Chelgren said. "We try to teach courtesy, and when someone behaves in a way that is contrary to that, we need to point it out."
The law would "prohibit certain future collaberations" between Stanford and Iowa colleges until Stanford publicly apologizes for the halftime performance.
How bad was the Stanford band's offending performance? You be the judge:
Whether or not the law passes, I'm not sure the Hawkeyes have thought this through. It's bad enough getting beat by a football team, but what does it say to opponents that the marching band got into your heads?
This is an opinion piece. The views expressed in this article are those of just the author.