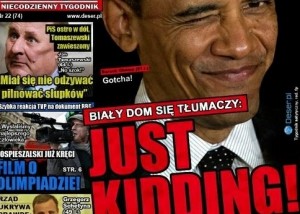 In a short item pegged to President Obama's Medal of Freedom ceremony gaffe, in which he referred to Nazi death camps in occupied Poland as "Polish death camps," the website Buzzfeed committed a gaffe of their own, headlining the piece "President Obama, Polish Tabloid Cover Boy."
The post drew attention to a satirical Polish newspaper's headline, which read "White house says 'Just Kidding.' Poland withdraws F-16s," but Buzzfeed's own headline can be read in a number of unfortunate ways.
Aside from the racial baggage associated with calling the first black president any kind of "boy," the Buzzfeed hed also illustrates the linguistic trap that President Obama fell into, since it can also be interpreted as calling Obama a Polish boy who's on the cover of a tabloid. "President Obama Makes Cover Of Polish Tabloid" is clearer, and fills about the same amount of virtual space.
The White House responded to outrage over the death camp gaffe with an obvious clarification:
In a statement released by the White House on Wednesday morning, Tommy Vietor, a spokesman for the National Security Council, said the president had misspoken.

"He was referring to Nazi death camps in German-occupied Poland," Mr. Vietor said in the statement. "We regret this misstatement, which should not detract from the clear intention to honor Mr. Karski and those brave Polish citizens who stood on the side of human dignity in the face of tyranny."
Several Polish government officials have, however, demanded a stronger apology and clarification from the President, in order to stop the use of the phrase "once and for all."
Some conservatives have bristled at the attention paid to Mitt Romney's "Amercia" gaffe, versus the President's gaffe, but such consternation misses the crucial difference between the two: like most of President Obama's infrequent gaffes, death camps just aren't funny.
On the other hand, a presidential candidate whose campaign slogan is "Believe In America (itself an odd concept, as if America is like Santa Claus or Sasquatch)" ought to be able to spell it.
Have a tip we should know? tips@mediaite.com