Cainspiracy! Washington Times Reports Rahm Emanuel 'Likely Involved' In Leaking Herman Cain Story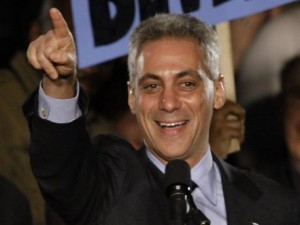 The Herman Cain alleged sexual harassment story already has more wrinkles than a shar pei who slept in his clothes, but the latest one is a doozy. The Washington Times' Kerry Picket alleges that Chicago Mayor Rahm Emanuel "is likely involved with the sexual harassment accuser attacks" against Herman Cain, on the strength of sourcing so thin, it has to wear snow shoes in the shower to keep from slipping down the drain.
When Politico first broke the news of sexual harassment allegations against Herman Cain, in an extensively-reported and 100% accurate story, the Cain campaign's response was to call it a "thinly sourced smear," which makes the sourcing in the Washington Times story that much more comical: (emphasis mine)
According to a source who is friends with the Cain campaign, not only is the Rick Perry campaign involved but also the Mayor of Chicago and former Obama White House Chief of Staff Rahm Emanuel is likely involved with the sexual harassment accuser attacks. A friend of the Cain campaign believes a National Restaurant Association (NRA) employee out of the Chicago office leaked the story to the Perry campaign via information and influence from Mayor Rahm Emanuel's office.
A friend of the Cain campaign? Is it just me, or is that a little bit like Homer Simpson writing a letter to the film Die Hard?
Whoever Picket's source is, none of Cain's "friends" are doing him any favors by firing wild accusations about who leaked a story that has proven to be completely accurate, and which continues to unfold. Cain campaign manager Mark Block already managed to make a liar out of his boss when accusing Perry aide Curt Anderson of leaking the story to Politico, by confirming that Cain's ignorance of the accusations against him was feigned.
Drawing former White House Chief of Staff Rahm Emanuel into this, though, just makes them look crazy. Not only is there no factual basis for the claim, it doesn't even make any sense. Why would anyone connected with President Obama want to do anything to slow Herman Cain's momentum, and at the behest of the Rick Perry campaign? Are Perry and Emanuel secret members of the Stonecutters?
The most obvious problem with this strategy, though, is that there's little reason for anyone to care how Politico got this story, beyond pure curiosity. All these accusations do is draw more attention (if that's possible) to the fact that the allegations were, in fact, made, and that Cain lied when confronted about them.
Mayor Emanuel's office hasn't returned our request for comment as yet.
Have a tip we should know? tips@mediaite.com