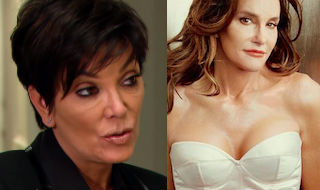 Despite the massive response to Caitlyn Jenner's reveal on the cover of Vanity Fair on Monday, all is not well in the ex-house of Jenner. At least, that's according to People and others who've had a chance to read the full Vanity Fair interview with Jenner, which was conducted by Buzz Bissinger.
It turns out that everything about Jenner's transgender status, and her intention to transition, weren't as clear as to her family as we've been led to believe — according to ex-wife Kris Jenner.
Kris maintains that their relationship ended abruptly when her former husband "just decided, 'I'm done.'"

Knowing what she knows now, Kris tells the magazine the way Caitlyn approached their separation and subsequent divorce felt like "the most passive-aggressive thing I think I've ever experienced."

She asks rhetorically, "Why would you want to be married and have kids if this is what you wanted since you were a little boy? Why would you not explain this all to me?"
Kris isn't suggesting that she was left completely out of the loop, saying that when she first met Bruce, "he told me that he had done hormones back in the early '80s." But it still appears that some sense of animosity, or at least disagreement about the facts, exists between the two. Caitlyn responds to Kris, saying she "was fully aware of the treatments and their side effects."
Then — all of this courtesy Bissigner's back-and-forth interviews with Caitlyn, Kris, and Bruce's other ex-wives — the two fight about whether or not Bruce cross-dressed in front of Kris before Caitlyn's revelation. This is beginning to get ugly.
[h/t People]
[Image via screengrabs]
— —
>> Follow Andrew Husband (@AndrewHusband) on Twitter
Have a tip we should know? tips@mediaite.com