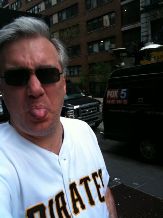 Since Keith Olbermann's suspension Friday, his supporters have taken to defending the MSNBC host using the contributions of others as a comparison: from News Corp. and Fox News to Joe Scarborough and Larry Kudlow.
Here are some more donations that tangentially relate to Olbermann – like GE overlap.
The folks at Martin Eisenstadt's blog have a satirical post with some real information about donations. For example, Olbermann's current and future parent company has donated to two of the three candidates the Countdown host did two weeks ago:
According to FEC filings, General Electric Company Political Action Committee (GEPAC) has given $7,750 to Gabrielle Giffords' campaigns over the years (including $4,500 for this campaign cycle). GEPAC has also contributed $5,000 to Raul Grijalva over the years, though those contributions ended in 2007. GEPAC did not contribute to either Giffords' or Grijalva's opponents this year. Nor did it contribute to either Kentucky Democratic Senate candidate Jack Conway (whom Olbermann did) or his opponent, Rand Paul.

NBC/Universal's soon-to-be new owner is Comcast, which also has an active PAC. Comcast's PAC has given $8,000 to Giffords' campaigns (including $2,000 for her 2010 reelection effort), and it's donated $5,000 to Grijalva's campaigns (including $2,500 for this campaign).
Meanwhile soon-to-be NBCU CEO Steve Burke has made several donations to Republicans (while his wife donated to Democrats). Of course, all this ignores the fact that the issue with Olbermann's donation appears to be that it wasn't reported to his bosses, not that it happened in the first place.
Check out all the info, and "Marty"'s take, here.
—–
» Follow Steve Krakauer on Twitter
Have a tip we should know? tips@mediaite.com