Canada's Trudeau: I Look Forward to Working With Whomever America Elects POTUS, Even Trump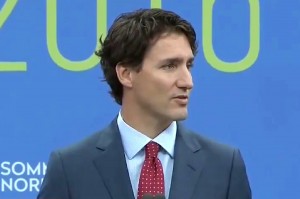 Canadian Prime Minister Justin Trudeau said that he would work with whomever Americans elected President, even though, as reporters noted, he had reasons to be wary of a Trump presidency.
The PM was asked why he didn't come out more forcefully against Trump, who has called for NAFTA to be renegotiated and even rescinded, a move that would be harmful to Canada.
"One of the things that it's easy to forget amid the inflated rhetoric of an election campaign is that the relationships between our three countries go far deeper than any individual leader," Trudeau said. He added that the priorities of each nation's citizens were aligned, and that it was incumbent on leaders to work toward their shared mutual benefit.
"So when you look at the level of integration of our supply chains, of our markets, of the flow back and forward across borders of goods and people, and the tremendous benefits that have come from proximity and strong relationships to individual citizens across this continent," he continued. "It's essential that we understand that, regardless of electoral rhetoric, Canada, the United States, and Mexico will continue to have tremendously close relationships — economically, culturally, socially, familially [sic], historically, and towards the future.
"So as I have said many times, and I'll say it again, I look forward to working with whomever the American people choose to elect as their president in November," he concluded.
You can watch Trudeau's answer above (beginning at roughly 7:45) courtesy of CNN.
Have a tip we should know? tips@mediaite.com