Carl Paladino Attacks Gays: Children Shouldn't Be "Brainwashed" Into Homosexuality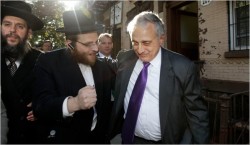 Apparently Carl Paladino has officially entered the crash and burn stage of his candidacy for Governor of New York. Here's what Paladino told a group of Hasidic Jewish leaders in the Williamsburg of Brooklyn today as reported by the the New York Times.
"That's not how God created us," he said, reading from a prepared address. "I just think my children and your children would be much better off and much more successful getting married and raising a family, and I don't want them brainwashed into thinking that homosexuality is an equally valid and successful option — it isn't."

And then, to applause at Congregation Shaarei Chaim, he said: "I didn't march in the gay parade this year — the gay pride parade this year. My opponent did, and that's not the example we should be showing our children."

Newsday.com reported that Mr. Paladino's prepared text had included the sentence: "There is nothing to be proud of in being a dysfunctional homosexual." But Mr. Paladino omitted that statement when he gave the speech.
It's hard to know where to begin here. So let's just begin with the fact that anti-gay attacks have been on the rise in New York City recently and that over the weekend seven men were arrested in the Bronx for luring a gay man to a house there and then attacking and torturing him (he was sodomized, burned and whipped).
But fear not, Carl Paladino is not "anti-gay" according to his campaign manager Michael Caputo, he's merely expressing the "views that he holds in his heart as a Catholic…Carl Paladino is not homophobic, and neither is the Catholic Church." Indeed. Also? "The majority of New Yorkers agree with him." Really? I would like to see numbers on that because I have a hard time believing that even the majority of typically more conservative upstate New Yorkers think that children can be "brainwashed" into believing they are gay. Or even that the tenor of Paladino's remarks were acceptable from person running for Governor of the State of New York.
Oh wait, the NYT already did a poll: "A recent New York Times/CNN pollfound that 58 percent of people in New York were in favor of gay marriage. Mr. Caputo said that the campaign had done its own polling." Perhaps the people Paladino "polled" were also the ones on the receiving end of his pornographic emails. Regardless, one thing I am fairly certain of is that if Paladino's intention here is to motivate a bunch of normally uninvolved NYC liberals into remembering to vote on November 2 than this was a fairly quick way to achieve that goal.
[Pic via]
Have a tip we should know? tips@mediaite.com