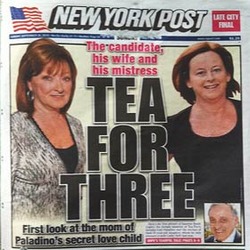 Perhaps tiring of the circus that is Christine O'Donnell the media is slowly turning its attention to New York gubernatorial candidate Carl Paladino, who appears to actually have a chance of snagging the seat away from Andrew Cuomo (unlike O'Donnell who remains 16 points behind Chris Coons).
Yesterday Paladino landed the cover of the New York Post (a less than impressive effort on the Post's part, I must say, considering the material they had to deal with) which revealed Paladino had a love child, and that he had informed his wife Cathy of this the same week their son Patrick was killed in a car accident.
Cathy said learning about her husband's 10-year-old daughter, Sarah, didn't faze her. "I think when you lose a child . . . everything changes. So when he told me about Sarah . . . it was a very short affair, it was 10 years prior, and um . . . my first thought was, 'How lucky. Every child's a gift.' That was my thought. I wasn't angry, you know. I can deal with one family crisis at a time. But to multi-task . . ." She laughed softly. "It's not that important."

Nor did she feel betrayed that her children — William, now 39, Danielle, 36, and Patrick — all knew about Sarah, and that Patrick had been very close to the girl and begged his father to tell mom the truth.
Today Paladino had scored an A-1, above-the-fold, New York Times profile. Here's how it opens:
When his troubled son spent a night in the Erie County lockup on drunken-driving charges, Carl P. Paladino parked outside the jail and slept in his car, just to be close to him.

When he ran out of patience with Buffalo's failing public schools, he bought time on local radio stations to demand the resignation of the superintendent. "Hello-o-o-o," his booming voice declared in the ads. "It's time for you to go-o-o-o."

And when an older man, the lone holdout blocking Mr. Paladino's development of a megastore, refused to sell the house he had lived in for 50 years, Mr. Paladino filed plans to surround the man's home with a sea of asphalt, which officials rejected.
Pretty dishy stuff, no? Perhaps this is the beginning of Paladino news cycle. What I find fascinating (and not a little frustrating) is how long it took to get rolling. Delaware, a tiny state with relatively little national clout, has been dominating the news cycle because Christine O'Donnell, former witchy dabbler with questionable knowledge of science, won the primary and is now trailing far behind her opponent. Carl Paladino, meanwhile, is not only equally nutty (and far more offensive) but also possibly only six points behind Andrew Cuomo, in a race to be Governor of New York. It's hard to understand why media-centric New York has not pounced on him with equal intensity.
[Pic via]
Have a tip we should know? tips@mediaite.com