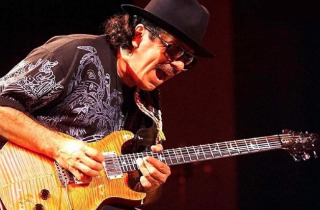 People in agreement with Donald Trump about Mexican immigrants probably won't like what Mexcican-American rock star Carlos Santana had to say about it.
While the message has since been deleted, Clutch Magazine reported that Santana recently posted a letter on Facebook where he praised President Obama's message during the State of the Union. While Santana praised Obama's leadership and his call to harmonize the nation on the issues, the same positivity could not be said for what his message included about the front-running GOP mogul.
Regarding Mr. Trump …. I remember when I was a child living in Tijuana. I often crossed the border to visit the San Diego Zoo. I would hear loud screams and commotion in the distance. As I came closer to the sound, I noticed everyone was staring at an ape in a glass cage. The ape was staring back at the crowd that gathered. With an angry look of disgust, the ape defecated in his hand and threw it at the crowd. This is what I hear when Mr. Trump speaks.
Santana also included a more… articulate grievance towards the end, saying that Trump's proposals are based on hate and fear and that his lack of "consciousness" is contrary to America's values.
This is not the first time the rocker stood against Trump's message, having previously appeared in the "We're All Mexicans" music video with other Latino celebrities in protest of Trump's infamous pronouncement that a lot of Mexican immigrants are rapists.
[h/t International Business Times]
[Image via screengrab]
— —
>> Follow Ken Meyer (@KenMeyer91) on Twitter
Have a tip we should know? tips@mediaite.com