Carson: Americans Don't Want Calm, Rational Leadership Right Now — And That's OK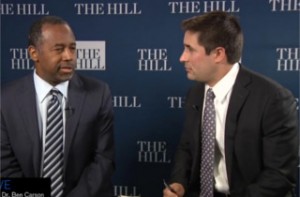 Dr. Ben Carson said that Donald Trump is the candidate America wants right now, if not the candidate it necessarily needs.
In an interview with The Hill's Jonathan Swan, which aired Friday afternoon on Facebook live, the Trump supporter and retired neurosurgeon said that Americans didn't want the brand of calm, rational leadership that he said he had been offering during his failed presidential run. But that was all right, he noted.
The nation was in what he called a "WWE stage" right now — that is, angry and hungry for spectacle. "It's not a matter of what they need, it's a matter of what they want right now."
Americans were "probably not going to be persuaded by calm, rational, logical arguments." He added: "They want loud, brash, I'm-gonna-get-it-done, and that's okay."
The country, he said, was in a "downward spiral," because it had abandoned the "Judeo-Christian principles" on which it was founded in favor of "political correctness."
Carson excused the violent rhetoric Trump had lobbed at him (which included calling him "pathological" and likening him to a child molester) during the brief period last fall when Carson surged past Trump in the national polls.
"Trump did not ask for my forgiveness," Carson said, "but he accepted it." He added, "I understand what he was doing, no problem," attributing it to "what politicians do."
When Swan asked about the white nationalist, alt-right elements being drawn to Trump's campaign, Carson punted, saying, "I can't speak for them."
However, he said that "I'm hopeful that we can get all these different groups that we're all in the same boat." These groups, he said, "felt that nobody's cared about them," and he was optimistic that Trump could "get these groups to understand that there's a new sheriff in town" who was going to treat everyone equally.
"A lot of the animosity will begin to cease," he said.
Have a tip we should know? tips@mediaite.com