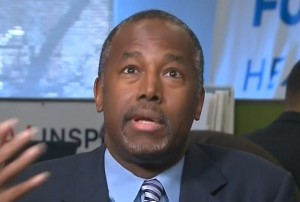 Despite being dead last in a five-man contest, Dr. Ben Carson is not dropping out of this race.
In an op-ed published Monday on Fox News, entitled "Why I intend to stay in the GOP presidential race," the retired neurosurgeon and book tour impresario said his decision to continue receiving campaign contributions was a matter of standing up for American principles and also for his supporters' right to keep sending him checks.
"I've vowed to continue our campaign as long as we have revenue and support," Carson wrote, "until the people have decided."
Carson came in at last place in South Carolina and New Hampshire, and squeaked into second-to-last in Nevada above John Kasich. His campaign has been dogged by reports that his organization has been hemorrhaging talent, mismanaging its resources, and the fact that the good doctor has given a series of sleepy-eyed debate performances and made curious tactical moves, like ducking out of early-voting states for a fresh pair of clothes.
Nonetheless, Carson asserts that reports of his candidacy's death have been exaggerated and that a spiteful punditocracy and dirty politics are to blame.
"Unfortunately," he wrote, "these pundits have gotten too lost in the gladiatorial spectacle to see what truly matters: the will of 'We the People' of America."
"With every call to drop out, pundits and political operatives salivate over polling percentages," he added. "This mentality is driving voters away from the political system they have so long supported." (Despite Carson's contention, GOP voter turnout is up this year.)
Carson's op-ed seems to confirm reporting last week that indicated he would stay in the race through "Super Tuesday," March 1.
"Our nation is best served when the people have free choice," he wrote. "If a reporter wants to change a person's vote, they should give him or her a compelling reason, not take away their options."
[h/t Fox News]
Have a tip we should know? tips@mediaite.com