CBS On The Ropes: Dan Rather Gets Fraud Charge Reinstated, Wins Access To Huge Document Dump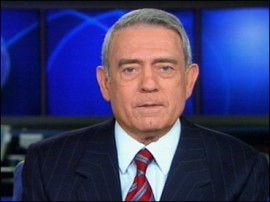 Just a few days ago CBS welcomed Dan Rather back to participate in Sunday night's Walter Cronkite special. But it looks to be a short-lived detente. Yesterday Rather's drawn-out $70 million court case against his former employer won what the Times is calling "significant victories":
[Rather] won access to more than 3,000 documents that his lawyer said were expected to reveal evidence that CBS had tried to influence the outcome of a panel that investigated his much-debated "60 Minutes" report about former President George W. Bush's military record."Mr. Rather also won an appeal to restore a fraud charge against CBS that had been dismissed. Martin Gold, the lawyer representing the former anchor of the "CBS Evening News," called it "a very successful day for us; we got everything."
Meanwhile the network appears unfazed, which is not all that surprising when one imagines the army of lawyers they must have at their disposal. Say one such lawyer: "Was it favorable for him? Yes. Was it meaningful? No…Most of Mr. Rather's claims already have been rejected by the court and that has not changed. We are similarly confident that Mr. Rather's re-pleaded fraud claim will be dismissed once the court reaches the actual merits."
Some of Rather's claims were rejected last year, a decision he seemed rather sanguine about at the time, telling Rachel Sklar, then at the Huffington Post: "Everything that was open to us before the judge rendered his decision is still open to us…The major point here is, the judge said this suit will go forward. But within that everything that was open to us before in the way of depositions and discovery remains."
That was over a year ago, and now Rather has the whole discovery of 3,000 documents to look forward to! That's the sort of reading that could lead to the kind of transparency Rather has professed to be after all this time. Discovery has a way of producing documents you'd much rather have kept private — surely CBS doesn't want 3,000 of them airing old dirty laundry in the public square. Confident as CBS may sound, they used words like "frivolous" back in 2007 when Rather brought this lawsuit, which called it "without merit" and predicted would be swiflty dismissed. What will emerge from this latest round? Who knows, but depending on what's in those documents, here's one thing that might be prudent for CBS to consider: a settlement.
Have a tip we should know? tips@mediaite.com